Tena Koutou, Talofa Lava, Malo e Lelei, Namaste, Ni sa bula, Noaia'e mauri, Fakalofa lahi atu, Kia Orana, Ni Hao, An Nyung Ha Sai Yo, Nay Ho, Hej, Hallo, Sawat Dee. Greetings to our school families.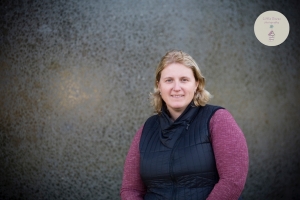 I have been exceptionally proud to be a part of this community over the past few weeks. The way one of our families were supported after losing all in a fire was staggering. The many messages of support when the teachers decided to strike – each and every one was shared with staff, and were very humbling.  The overwhelming sense of "togetherness" at our Cross Country (& I think Tanja Dove's photos, below, captured this perfectly). Thank you for the support you show our school and each other.
Nga mihi,
Kathryn Ramel
Principal
Weekly Diary
Week 6: 27 Aug – 31 Aug
Mon 27.8           Red Cross Training – Year 5 & 6
Tues 28.8           Red Cross Training – Year 5 & 6
Weds 29.8          Red Cross Training – Year 5 & 6
Weds 29.8          BOT Meeting 6:30pm
Week 7: 3 Sept – 7 Sept
Mon 3.9              Year 5 & 6 Trapping Session 4
Weds 5.9            Hockey Zone Day
Weds 5.9         Mahurangi College Enrolments Closing Date
Fri 7.9                  Speech Semi Finals Year 4 – 6 (middle block).
Fri 7.9                  Full School Assembly 2:10 in the hall – Man 1
Week 8: 10 Sept – 14 Sept
Weds 12.9          Junior Poetry Recital (Yr 1 – 3) – afternoon. All welcome.
Fri 14.9               School Speech Finals (pm). All welcome.
Welcome to our new students – we hope you enjoy your time at our school!
Sharni Carter and Kyler Dryden
Cross Country 2018
We were so proud of all our students who took on our school Cross Country Course last week. It is always inspiring to see how effortless it seems, as our top runners come in and we saw some outstanding finishes. We love the way Cross Country brings our school together, as those who find it challenging work hard to complete the course, and are supported by their mates in the process. Thank you so much to all parents and supporters who came and made it a special day.
Top 10 Place Getters 2018
Year 0-1 Boys: Jake L, Levi P, Judah D, Ollie E, Kyden M, Cam D Jacob P, Liam G, Jack W, Ashton C
Year 0-1 Girls: Zailie R, Laelah I, Saskia P, Sequoia L-M, Maniha B-R, April H, Sofia B, Meredith C, Fern Y, Eva C
Year 2 Boys: Hunter S, Ryan G, Braxton M, Hanco V-D, Carlos D, Ollie H, Max S, Kayden C, Lachie R-S, Maximus M-B
Year 2 Girls: Millie C, Tahlia W, Grace K, Ashley R, Azaariah S, Zhia D, Korbyn B, Isabel B, Laticia L, Esther W
Year 3 Boys: Cade M, Liam F, Dillon G, Loki D, Mitchell G, Ollie P-B, Charlie B, Francois C, Logan H, Jaxon H
Year 3 Girls: Sienna S, Elsa S, Zara T, Dove E, Amalia P, Charlie E, Cassidy B, Kaylee G, Isabelle T, Nevaeh M
Year 4 Boys: Rai T, Micah S, Blake T, Royston B, Alex H, Michael A, Phineas P-B, Callum W, Jamie B, Lucas H
Year 4 Girls: Brittany H, Paige K, Leigh T, Kate L, Micaiah P, Ayvah C, Bethany H, Jade F, Arabella P, Jessica V
Year 5 Boys: Conor GJake M, Lachlan S, Anthony F, Andre T, Alex H, Elijah H, Joseph S, Jahmo L, Ryder A
Year 5 Girls: Tegan S, Holly W, Isabella B, Sarah S, Caelyn-May H, Liana D, Kaeli C, Seila F, Sienna K
Year 6 Boys: James E, Cayden S, Jacob W, Austin N, Eli S, Ethan G, Matthew T, Jonny C, Adam A, Aaron G
Year 6 Girls: Annika B, Charlee F, Zoe T, Aaliyah P, Dakota C, Olivia P, Acacia T, Amber R, Ayla H, Macy R-S, Sianah H
WELL DONE TO ALL OUR INTER SCHOOL CROSS COUNTRY RUNNERS! WE WILL INCLUDE THESE RESULTS IN THE NEXT NEWSLETTER – WE SIMPLY COULDN'T FIT EVERYTHING IN THIS ONE. 
Stranger Danger – please have "a chat"
We were contacted by a parent earlier this week to inform us that their children were approached by an older man near the helicopter pad, by the fire station after school. We want to be clear that NOTHING untoward happened. No inappropriate contact was made, there was no attempt to abduct, but nevertheless the children felt uncomfortable at the interaction, and wisely reported it to their parents.
This is probably a good reminder to us all that regular chats about "Stranger Danger" are empowering to our children. They feel they know what to do when confronted with a difficult situation.
We recommend that children leaving the school via the Foster Cres pathway, join Mahurangi East Rd via Iris St, as this way is most heavily used by students walking, parents, and some parents in cars. In general, we consider busy routes safer.
New TV's – Thanks to Pub Charity and our Walkathon Fundraising!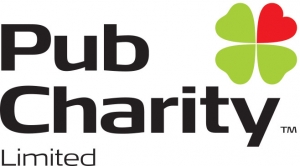 We have had a problem emerging in the school as our data projectors near 10 years of age. It has become challenging for teachers to share images, research, and students learning with the rest of the class as projector bulbs dim etc. There are so many informative and inspiring online resources available now (such as https://www.youngoceanexplorers.com) which challenge kids thinking, start discussions, trigger questions, and generally motivate our learners, and teachers often use these within lessons. We were delighted to receive a generous donation through Pub Charity, which, when combined with profits from our Walkathon Fundraising, enabled us to buy a 65″ HD TV, with surround sound, on a tough trolley, for each of our blocks.
Here are Kauri 2 using their new TV to learn a song in sign language: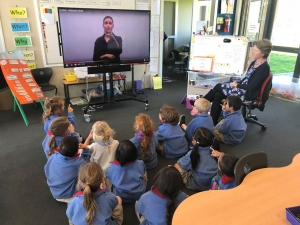 Nits
As is common at this time of the year, when the children are often in closer proximity, inside for wet lunchtimes etc, we are having a rise in reports of nit infestations. While they are a common problem, there are steps you can take to both reduce the chances of your child catching them, and also to get rid of them when they appear.
Prevention: please note, it is a common misconception that nits prefer "dirty" hair. They like hair full stop, and do not discriminate. Nits do not fly, and are passed on via direct contact. Teachers are reminding students about not "hugging" etc, but we STRONGLY recommend tying back long hair. Nit combs can be purchased cheaply from either the chemist or supermarket. Regular combings with these will remove the odd nit that is transferred BEFORE you have to deal with a serious infestation.
Treatment: please note, it is a common misconception that expensive treatments are necessary, and when purchased, often these are not used correctly. Treatment shampoos, in general, only kill LIVE NITS, and not the eggs. That means that a few days after treatment, as new eggs hatch, the infestation continues. If using a treatment, most need several staggered doses (over a few weeks) to successfully stop the problem. Instead we recommend buying a nit comb, and a large bottle of the cheapest conditioner you can find. Drench the head in conditioner & comb using the nit comb. The conditioner helps smother the live nits, and makes them easier to catch in the comb. Repeat on a regular basis. Added bonus – silky hair! J
PTA Battery Fundraiser
Thank you to all who have supported our school with the PTA's Battery Fundraiser. Each participating family has been issued a box containing 15 packets of Blaupunkt batteries for your child to sell. Each packet has 5 heavy-duty batteries (2xAA, 3xAAA) and sells for $5. These are the most common sizes used in toys, and household accessories such as remotes. Everyone that sells 2 boxes gets a large sports ball .. every sold box gets a handball and gains entry to win a skateboard and helmet or sport ball prizes. If your family wish to "opt out" please simply return your box to school.
Local Pilates Classes
Mat classes. Adults and students. Snells Beach Baptist Church, Wednesdays at 6pm. $11 cash per class. Bring a mat Ph Sue 027 697 5921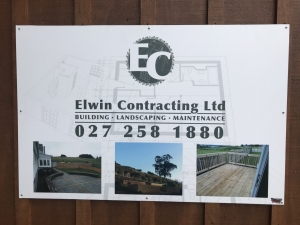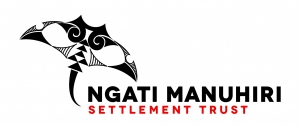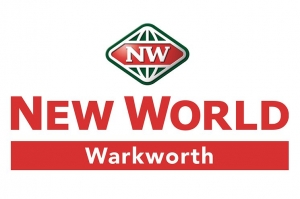 Print or Save this Post