Tēnā Koutou, Talofa Lava, Malo e Lelei, Namaste, Ni sa bula, Noaia'e mauri, Fakalofa lahi atu, Kia Orana, Ni Hao, An Nyung Ha Sai Yo, Nay Ho, Hej, Hallo, Sawat Dee, Cześć, Goeie Dag, សួស្តី, Здравствуйте, hola, 안녕하세요Greetings to our school families.
School Diary
Week 8: Mon 4 Sept – Fri 8 Sept
Tues  05.09

Snells Beach School Speech Finals (Year 4-6) 11.30-12.30

Thurs 07.09 Hibiscus Coast Cross Country
Fri 08.09 Full School Assembly. Rātā 1 & 2
Week 9: Mon 11 Sept – Fri 15 Sept
Tues 12.09

Inter School Speeches

Thurs 14.09 Te Whau Walkway Planting Day (Year 6 Only)
Welcome to our new students – we hope you enjoy your time at our school!
Maia B and Ben W
Interschool Cross Country Results
In spite of a number of our top runners being sick on the day, it was still a very successful outing for our Inter School Cross Country Team this week, including a number of podium finishes! It can be quite overwhelming with that many runners, on a tough course at the Showgrounds. In particular we wanted to acknowledge Harleigh and Harper who won their events. and Levi with a strong second.
Top 10 finishers were:
Year 0/1 Girls: 1st Harleigh W, 5th Livi S, 7th Jamie M, 8th Mya S
Year 0/1 Boys: 8th Baxter T
Year 2 Girls: 3rd Isla K, 5th Marlee J, Kordei L-M
Year 2 Boys: 3rd Pax S, 5th Hunter S, 6th Jake F
Year 3 Girls: 1st Harper McL, 4th Ruby E, 5th Marnie M
Year 3 Boys: 10th Alex M
Year 4 Girls: 5th Aria N
Year 5 Girls: 4th Elvie S, 5th Kiki E, 9th Gwen P-B
Year 5 Boys: 4th Jack H, 7th Marley B, 8th Johnny C
Year 6 Girls: 3rd Anantaya J, 5th Amelia C, 8th Saskia P
Year 6 Boys: 2nd Levi P, 4th Kyden M, 6th Ollie E
Junior School Poetry Recital
We are so proud of all our littlest learners, who conquered their nerves to present poems to their classes. Speaking in front of groups is a life skill that we all need – there are many adults that are nervous to speak in assembly etc, or even in front of family gatherings. Having their voice heard is a gift we can give our children. Thank you to the teachers for the way you support our students to achieve this. Well done to our super judges Mrs Adamson, Mrs Young & Mrs Spittal. And massive congratulations to the following students who presented at our finals in front of a large audience today:
Year 0: 1st Seb M, 2nd Chloe M, 3rd Livi S, Highly Commended: Beau R & Nua M
Year 1: 1st Baxter T, 2nd Heidi S, 3rd Kira A-J, Highly Commended: Florence H, Kase W, Teakin T
Year 2: 1st Mieke VDM, 2nd Scarlett VB, 3rd Isla W, Highly Commended: Eli H, Ruby H, Meg VDM
Year 3: 1st Daniel M, 2nd = Jakob P & Ruby E, Highly Commended: Kalo T, Maggie H
The Top 3 Place Getters will all present their poems again at the Senior Speech Finals next Tuesday to show the whole school.
EPRO8 Challenge Success
Wahoo! Our EPRO8 Challenge team of Kyron, Ollie, Amelia (AJ) and Tatum won their event at the Inter School Science and Engineering Competition today, and are off to the Regional Semi Finals soon! Well done to Mrs Young for all her hard work preparing them
SBS PTA Clothing Swap
Our amazing PTA is hosting a Clothing Swap here at SBS. Drop off 3 – 5 quality, gorgeous items of clothing, shoes or accessories to the school hall on Weds 6th, Thurs 7th or Fri 8th Sept from 8:00am – 9:00am. Then….join the PTA at the Snells Beach School Hall 7pm – 9pm on Friday 8th Sept and find some new treasures. Also, (just as importantly) enjoy a chat, cuppa tea and some cake! Make some new mates!
This is a fundraiser for the school and we will ask for a donation of your choosing when leaving the event. See you there!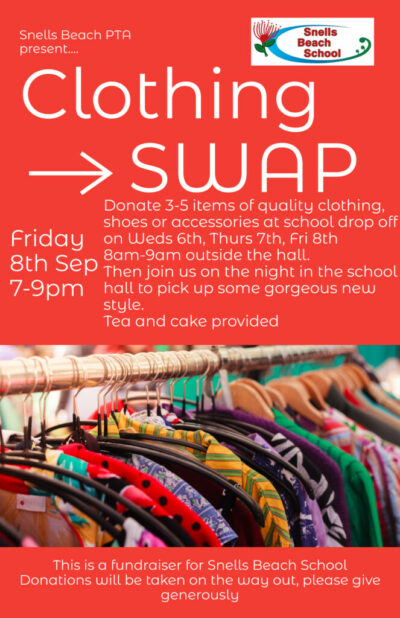 Community Reminders:
Snells Beach Kindy Comedy Night
Need something to get you out of the endless winter doldrums? Book a ticket to the local comedy night and help out the Snells Beach Kindergarten. 2nd September 2023, doors open 7:00pm, $25. For booking details, please see our SBS Facebook page.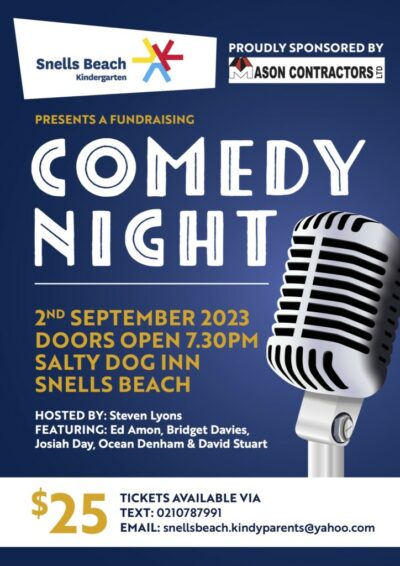 Snells Beach Flower Show
The Snells Beach Garden Circle are staging the annual Flower Show on Saturday 2nd September this year children are welcome to participate. Viewing to the public is from 1.00pm 3.30pm.
Children's flower arranging competition for 2nd September Show:
5 years and under An arrangement in a saucer.
6- 8 years olds An arrangement in a saucer
9-12 years olds A design in an ice cream container
Important
Write the child's name underneath the plate . Bring the entries to the Mahurangi Community Centre on Friday 1st September between 3 – 4pm, otherwise at 9.00 – 10.00am show day, 2nd September.
Warkworth Taekwon-Do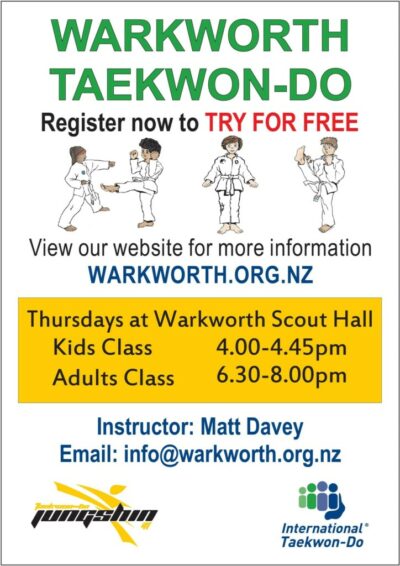 Holiday Surf Program at Orewa Beach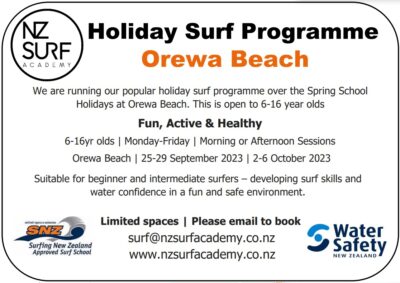 Beginner Learn to Sail (LTS1) Optimist class
Beginner Learn to Sail (LTS1) Optimist class
Where: Algies Bay
When: Starting Sunday 15th October (2023 term 4 and 2024 term 1)
Start time: 8.30am – 12pm
Youth: 9 to 15year olds
Teaching kids to sail; instilling the passion of sailing from the grassroots that's what we do.
At 
Sandspit Yacht Club
 we believe that lifelong sailing has huge benefits and we want as many kids as possible to have access to Yachting NZ's Learn to Sail program Sailing is more than a sport and contribute to physical and mental development.
Participation in sailing can help build self-esteem, confidence, and build social skills.
Participation teaches children the benefits of goal-setting and practice. It breaks down barriers, helps make new friends, kids have fun, learn to be a team member and learn about fair play.
We have passionate coaches, great equipment and one of the best bays in the world to learn to sail.
To register or for more Information: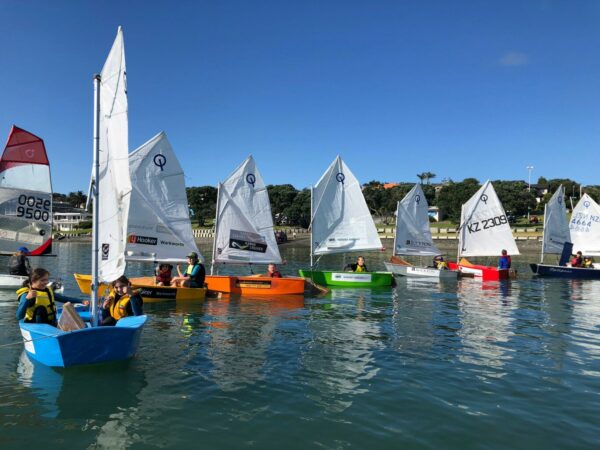 Warkworth Scout Group
If going on awesome adventures, playing heaps of games, learning life skills, doing arts and crafts, making lots of friends sounds like your child, Warkworth Scout Group is offering free taster sessions for Kea and Cubs.
When:           Friday -during term time
Where:          Warkworth Scout Den Hall, Shoesmith Road, Warkworth
Times:            Keas (5-8 Years)from 4:45 pm to 5:45pm,  Cubs from ( 8-11 Years) 6:00 pm to 7:30 pm
Contact         Group Leader – Ian Grant 021 755 667
https://scouts.nz/groups/warkworth-scout-group/
FrostFit Boot Camp
Every Saturday Morning, 8:30am in the SBS hall (undercover). All fitness levels.  $10 per class. Frost Fitness will be making a donation to SBS towards sports equipment and Education Outside the Classroom. Come along!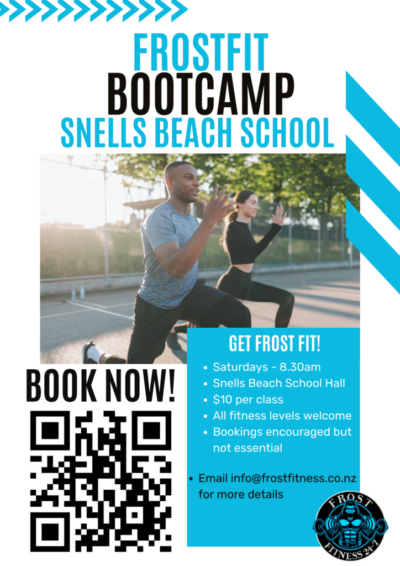 Keeping in touch
In current times more that ever, keeping in touch is important. We need to be able to contact whanau quickly and efficiently. If you have changed address or contact details, please let us know asap, either via email admin@snellsbeach.school.nz, or by calling the school office 09 425 6058. 
Following our school Facebook page or Instagram
"Snells Beach School", which operate as a digital newsletters. This is a great way to get quick updates and reminders
Downloading our School App
Simply download the "Skool Loop" app from either App Store or Play Store & select "Snells Beach School" from the drop down box to receive instant notifications & reminders.
Subscribing to our school email database
Please email us admin@snellsbeach.school.nz to be added to the list. If you do not receive this newsletter via email on Friday afternoon, you are NOT in our database. All new families should have been added – please check. You can unsubscribe at any time.

Print or Save this Post