Tēnā Koutou, Talofa Lava, Malo e Lelei, Namaste, Ni sa bula, Noaia'e mauri, Fakalofa lahi atu, Kia Orana, Ni Hao, An Nyung Ha Sai Yo, Nay Ho, Hej, Hallo, Sawat Dee, Cześć, Goeie Dag, សួស្តី, Здравствуйте, hola. Greetings to our school families.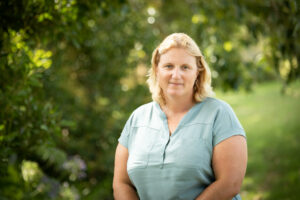 It was nice to have summer re-appear (briefly as it turns out), this week, and to finally get into our groove with swimming this week. We sure live in a beautiful part of the world!
For those of you new to the area, now is the time that many of the local sports clubs will begin providing us with information to share with our community. If you are looking for a winter sport for your kids, there is information below – follow us via email or social media for further updates.
Schools are all about people and the relationships between those people. Kid/kid, kid/teacher and teacher/home. The stronger the relationships, the more supported and happy the child feels, and the more successful their learning journey is likely to be. The weather forecast is finally on our side for this year's Meet & Greet – pop down next Weds (details below) so you can get to know both your child's teacher, and their new friends, a little more.
Ngā mihi nui,
Kathryn Ramel
Principal
School Diary
Week 5: Mon 27 Feb – Fri 3 Mar
Mon 27.2 Road Patrol Training with John Walker. Year 5 and 6. 9.00-11.00am
Wed 1.3 SBS Meet & Greet at Snells Beach 5:00pm – 6:30pm
Fri 3.3 Full School Assembly – Class Man 1. School Council announced. 
Week 6: Mon 6 Mar – Fri 10 Mar
Fri 10.3 Cultural Fridays – afternoon
Week 7: Mon 13 Mar – Fri 17 Mar
Tues 14.3 Inter School Swimming Years 4-6
Fri 17.3 Full School Assembly – Class Kah 1
Welcome to our new students – we hope you enjoy your time at our school!
Zion A, Caleb C, Daisy-Rose C, Charlotte D, Noah D, Penelope D, Alexander M, Dylan M, Ezekiel S, Corbyn T
The Great SBS Meet and Greet 2023
Wednesday 1 March 5:00pm – 6:30pm at Snells Beach, next to the main carpark on Snells Beach Road. 
This will be an informal time to talk and time meet the teacher. It's also a great opportunity to meet some of the other families in your child's class, before you get asked about playdates! With so many families moving into our area, it's nice to get to know the people that your kids know.
In order to do OUR job as well as we can, we need YOUR help. Research tells us that children develop best when they are involved in, and surrounded by strong relationships. The relationship between home and school is critical.
If you haven't returned your "Caregiver Homework", please bring it on the night (or teachers will have spares). The better we know your child, the better we can cater for their needs.
Bring a family picnic, or just come down for a play.
Please note, the school will NOT be providing supervision for swimmers.
Juicies (ice blocks) will be provided for all SBS children from their classroom teachers. Extra Juicies for siblings etc will be on sale for $2 & Sausages for $2.50.
Finally – some swimming!
It was a relief to finally get some swimming in this year, when the weather settled this week. Snells Beach is a beautiful safe spot, and the water is really warm at the moment. Our kids are simply too young to realise how lucky they are to have such a stunning "back yard" to explore and have fun in. 
At SBS, our Junior School do a "water confidence" programme, similar to that taught in schools with a pool. Bodies in, faces in, kicking, floating etc. Our Senior School do a "water survival" programme, with an emphasis on improvised flotation, identifying hazards, and providing assistance while keeping ourselves safe. This also includes a surf education session at Omaha (bi-annually).
Our Middle School travel to Mahurangi College for swim lessons with Aquakidz in Term 4.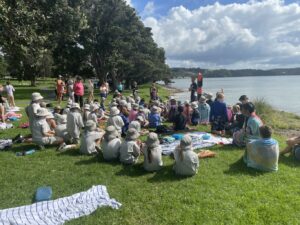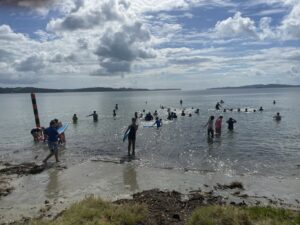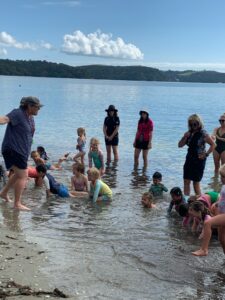 Visiting author for our Year 5's
Non fiction author, Maria Gill visited Nikau 1 and 2 to inspire our children to write their own biographies. She dressed up as one of her book characters – Kate Sheppard. She explained her process for writing her own books and gave tips to the children about how to create their own.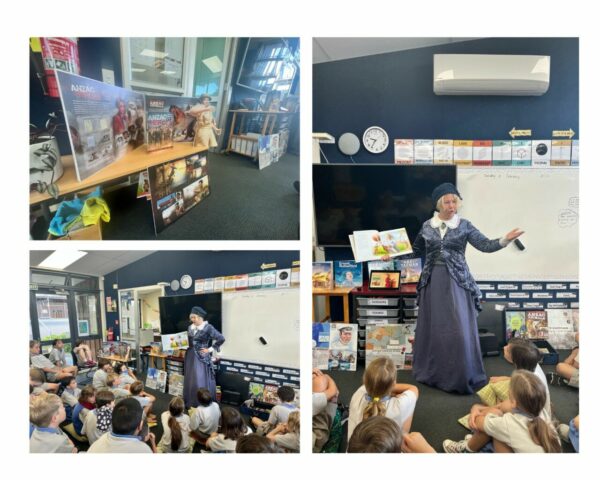 Keeping in touch
In current times more that ever, keeping in touch is important. We need to be able to contact whanau quickly and efficiently. If you have changed address or contact details, please let us know asap, either via email admin@snellsbeach.school.nz, or by calling the school office 09 425 6058. 
Following our school Facebook page or Instagram
"Snells Beach School", which operate as a digital newsletters. This is a great way to get quick updates and reminders
Downloading our School App
Simply download the "Skool Loop" app from either App Store or Play Store & select "Snells Beach School" from the drop down box to receive instant notifications & reminders.
Subscribing to our school email database
Please email us admin@snellsbeach.school.nz to be added to the list. If you do not receive this newsletter via email on Friday afternoon, you are NOT in our database. All new families should have been added – please check. You can unsubscribe at any time.
Crossing Safety
Our pedestrian crossing makes a huge difference in terms of safety for our students and whanau. They can clearly be seen, and the raised design is making a big difference to traffic speeds in front of our school. Please, please, if you are crossing Dawson Rd with your child, use the crossing. It may be a few extra steps out of your way, but if you don't use the crossing, they won't when you are not with them, and other kids may well run across also, because they saw an adult doing that. It is so busy out there, particularly around pick up time, with the buses moving through and many cars – we need to work together to keep our kids safe.
Staff Carpark
Also, for safety reasons, please don't park in the staff carpark. They only way in and out is to drive directly over the path where the kids exit the school, which is incredibly dangerous. Kids are unpredictable – we would hate for one of our students to be injured by a car, which could have been prevented simply by the car not being there in the first place. 
Brain Food for Brain Break
To enable a longer block for Literacy Learning, we have moved the morning tea break to 11:00am. Because this is quite a late morning tea, classes will have a "brain break" to grab a drink and a quick snack around 10:00am. This snack should be simply a piece of fruit, veges (eg carrot sticks) or nuts. Students are allowed drink bottles in class – but please make sure these are named. 
Head Held High Speech & Drama Lessons here at SBS
WHO? Open to all Snells Beach School students WHEN? 1 × 30 min lesson per week during school terms. Lessons after school, on school, premises, on Tuesdays, (Community centre options also available on Wednesdays)
LESSONS INCLUDE: Public speaking skills, Acting skills, Positive body language, Speech writing & delivery, Vocal skills, Poetry recital, Reading aloud, Manners & relationship skills, Building self-esteem & confidence
WHERE? Snells Beach School Library
We also offer professional qualifications through our association with NZ Speech Board and Trinity College of London.
Snells Beach School Hockey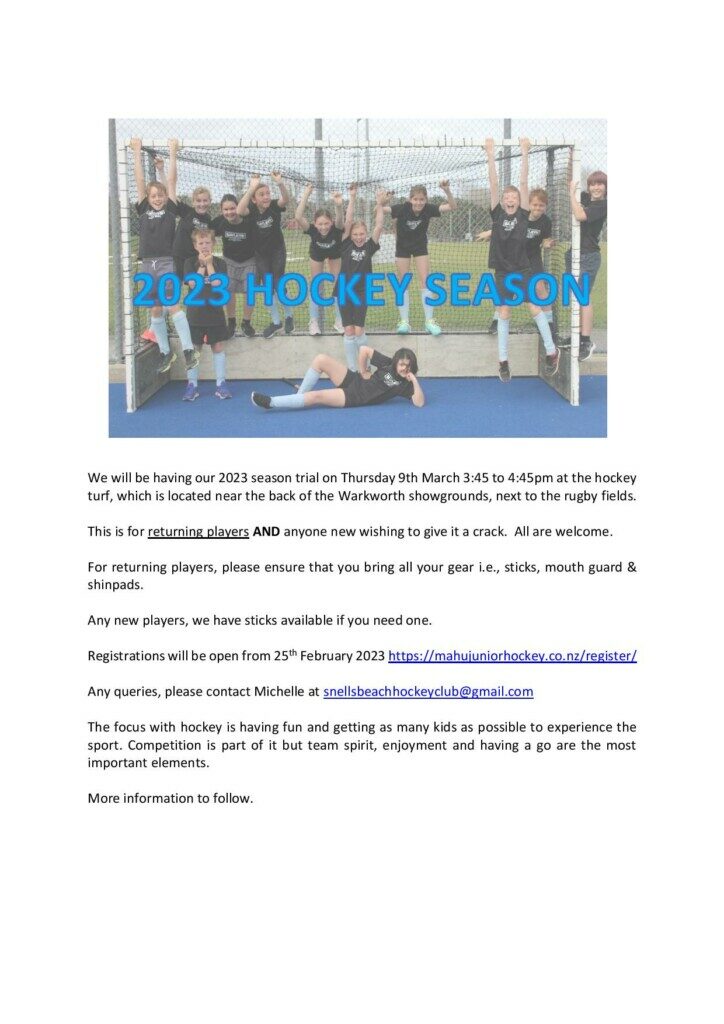 Rugby with Mahurangi Rugby Club
This year registration is online only with weigh-in days taking place on Thursday 23rd Feb from 4-6pm (during touch rugby) and Sunday 26th Feb from 1-3pm (including a sausage sizzle and games of touch for all ages) . All welcome, boys & girls, Rippa rugby (non-contact) for ages 4-7 and Quick Rip for girls up to 12 years; tackle rugby for boys/girls ages 8-13. Registration fees are $90 per player if paid on weigh-in days, $100 per player after that. Contact juniorsec@mahurangirugbyclub.co.nz for more information.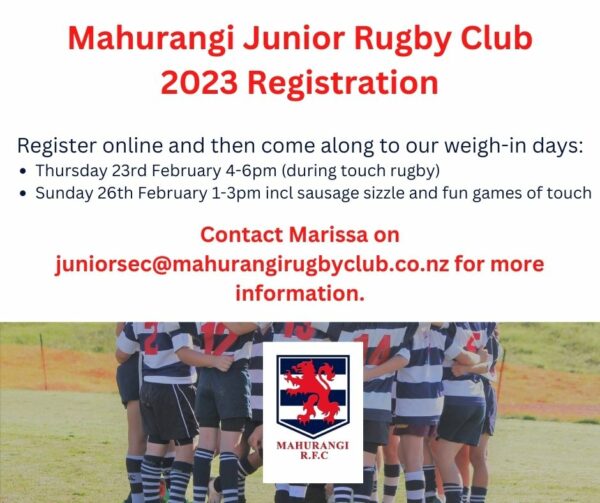 Football with Warkworth Football Club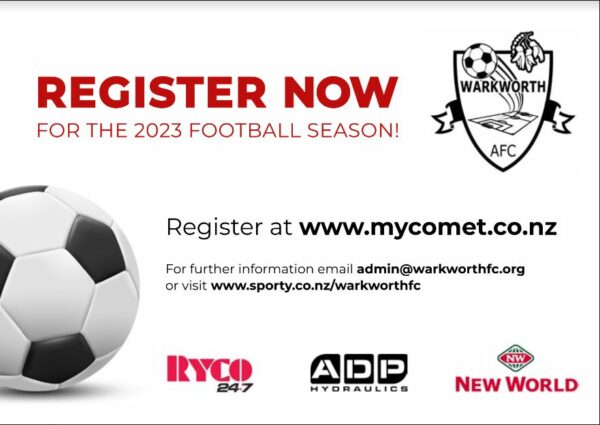 Raft Race supporting our local Coastguard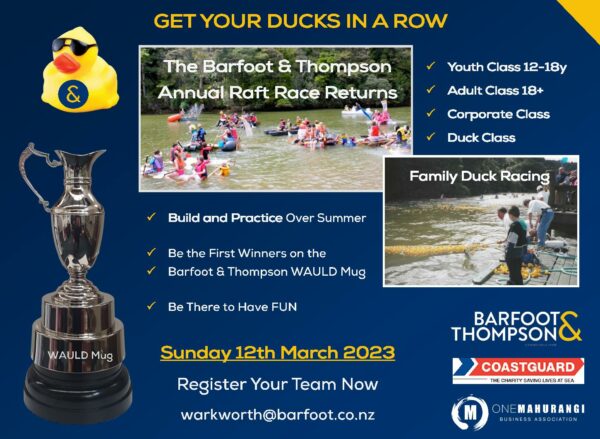 Totally Psyched Warkworth
We are a privately owned children's and adolescent's psychology clinic that offers a varied range of therapies to help families. The flyer attached is for a group therapy for children to help with socialising by collaborating with others to play with Lego.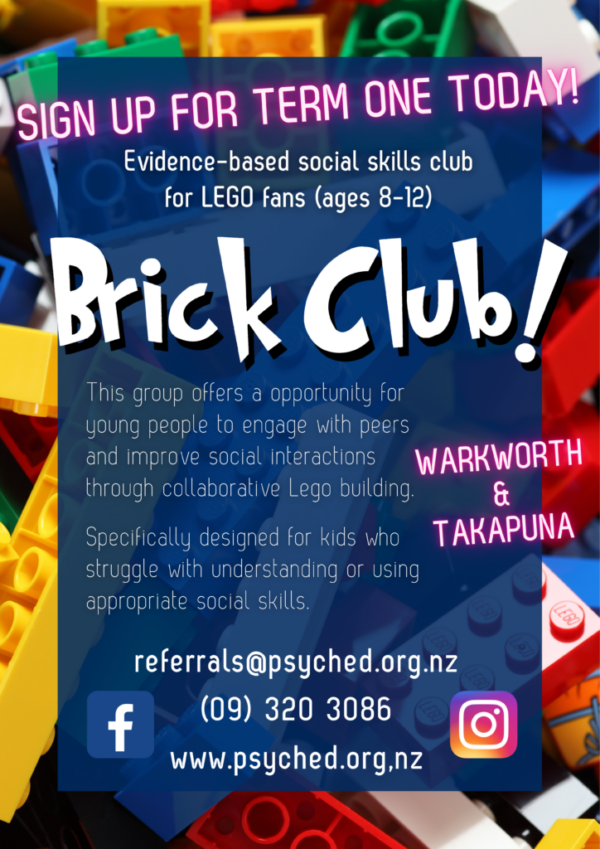 Thanks to our new school sponsor, Central Landscape Supplies in Warkworth, for helping us to keep our grounds looking so tidy!


Print or Save this Post