Tēnā Koutou, Talofa Lava, Malo e Lelei, Namaste, Ni sa bula, Noaia'e mauri, Fakalofa lahi atu, Kia Orana, Ni Hao, An Nyung Ha Sai Yo, Nay Ho, Hej, Hallo, Sawat Dee, Cześć, Goeie Dag, សួស្តី, Здравствуйте, hola. Greetings to our school families.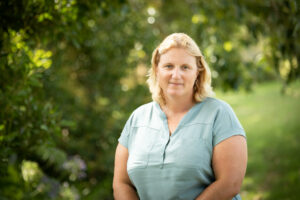 It was fantastic to catch up with so many people at last week's Meet & Greet. I know that many of our new families left the event feeling like they had made some connections, and putting faces to names, which both help build a stronger community.
I realise that the industrial action next week is tough on families, given the start to the year we have had.  Members have voted to strike because the funding for our schools is not sufficient to give teachers and principals the time and resources to teach. More resourcing is needed to ensure that:
all of our tamariki thrive, and
we can retain our quality educators and school leaders in the sector.
Put simply, our schools are not currently resourced to enable us to provide what the curriculum expects of us. I am sick of having to tell whanau that our system is broken, and we cannot provide the full level of support that their child needs. I want to see the best young people choosing teaching as a viable and attractive career option, so we have a wealth of great teachers coming into our schools. We need to place more value on education as a whole. We need change.
Ngā mihi nui,
Kathryn Ramel
Principal
School Diary
Week 7: Mon 13 Mar – Fri 17 Mar
Mon 13.3

Girls Rippa/Rip/Tackle Rugby Activation (girls only, all classes) 

Tues 14.3

Inter School Swimming Years 4-6

Thurs 16.3 School Closed – NZEI Industrial Action

Fri 17.3

Full School Assembly – Class Kah 1,

Pizza Fri (Yr 5 Camp)
Week 8: Mon 20 Mar – Fri 24 Mar
Thurs 23.3

Hibiscus Coast Swimming
Week 9: Mon 27 Mar – Fri 31 Mar
Fri 31.3

Full School Assembly – Class Tot 2,

Pizza Fri (Yr 5 Camp)

Fri 31.3 PTA School Disco
Welcome to our new students – we hope you enjoy your time at our school!
Evie K and Moreti T
School Council for 2023
We are super proud of all our senior students who put themselves out there to stand as a leader in our school. Not everyone can be successful, but other opportunities will come up during the course of the year for those who have shown that they have an interest in pursuing leadership opportunities. The different leadership roles involve different skill sets: presenting on stage, problem solving, managing people – leadership takes on many different shapes. The Leadership Teams below will form our School Council for 2023, and we wish them all the best.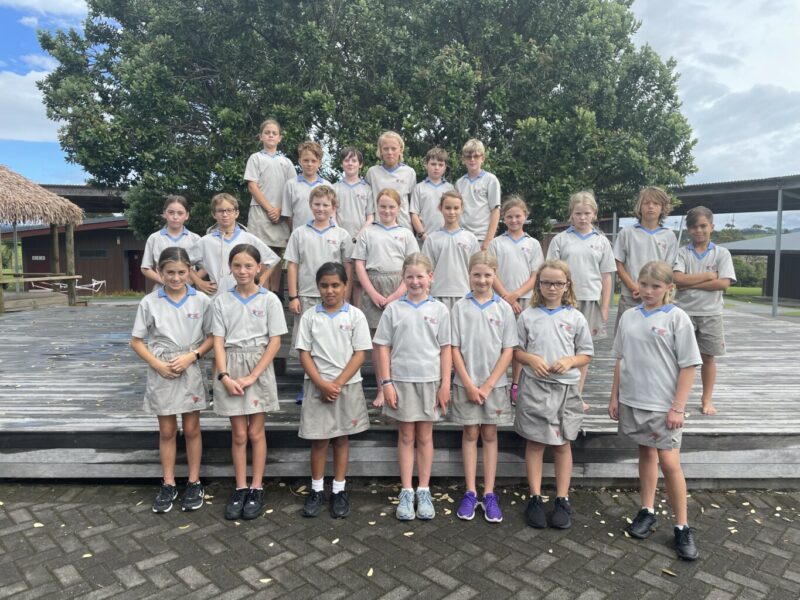 House Captains
Ollie E, Kyron M, Levi P, Isaac O, Amelia C, Saskia P, Eva D, Lottie G
Head AV
River VD, Daniel S, Sofia B, Kaelan N
Head Peer Mediator
Jake L, Xanthe W, Tiana AG, Laelah I
Head Librarian
Ariana R, Eva C, Neve N, Lucas M
Head Green Team (to work with the Travelwise Team also)
April H, Zailie R.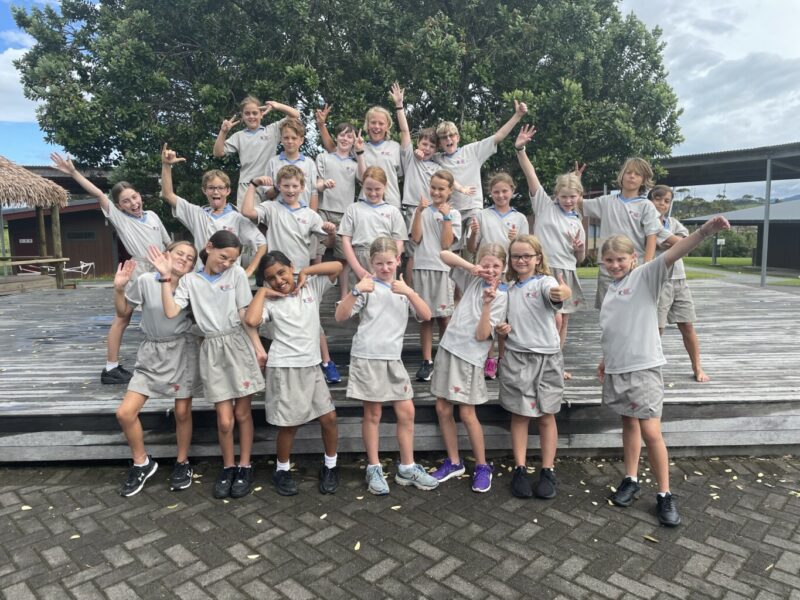 Travelwise Team
We would like to introduce everyone to our Travelwise Team for 2023. These students work with a variety of organisations including the NZ Police and Auckland Transport to help support our students to come to school in a Travelwise way. Many of you will meet them on Walking Wednesdays, and presenting at assemblies. We thank them for all the work they will be doing on our behalf.
April H – Head Green Team, Zailie R – Head Green Team, Jack K, Sol W, Kyden M, Taylor B, Lucy T, Sequoia L-M, Fergus H, Kiki E, Darcy B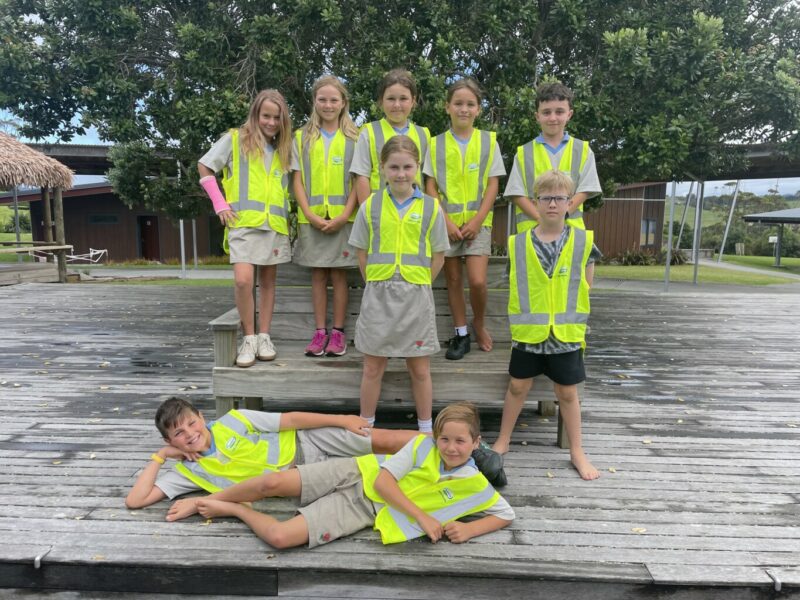 Students who need to be supervised next Thursday
Just a quick reminder that essential workers who need their child/ren to be supervised next Thursday must register their child by either ringing the office, or emailing admin@snellsbeach.school.nz so we can ensure that we know exactly who will be on site. 
Pizza Friday – next week. Orders must be placed by Weds 9am. 
Next Friday we will be holding a "Pizza Friday" with all proceeds going to support our Year 5 students to attend camp later this term. All orders must be placed by 9:00am on Wednesday – no late orders can be catered for. Wherever possible, please send cash, as the administration pressure in our office is huge. However, if you have money remaining in an account here at school from last year, your credit will show on the order sheet held by the teacher and the order can be added to the sheet. Please check with the office if you are unsure about your credit.  Prices are:
plain cheese $3 per quarter
ham & cheese $3 per quarter
gluten free cheese $4 per quarter
juicies $1.50 (frozen fruit juice in an ice block form)
All orders must be placed on order lists with class teachers.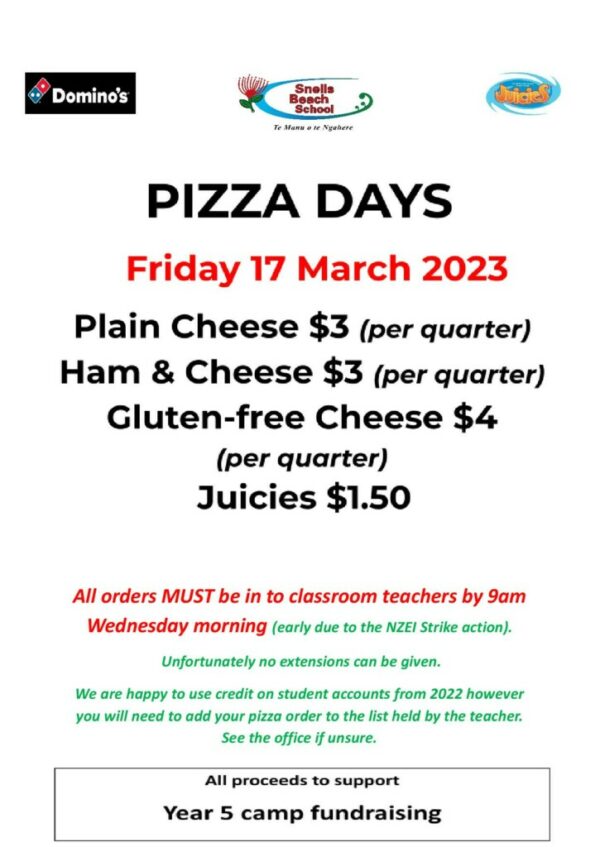 Car parking at pickup
We have had several residents in the local area let us know that they are having issues with whanau parking across their driveways around pick up/drop off time. Please be respectful and and consider others. We need to ensure that everyone in our areas is safe, particularly at peak times. 
Keeping in touch
In current times more that ever, keeping in touch is important. We need to be able to contact whanau quickly and efficiently. If you have changed address or contact details, please let us know asap, either via email admin@snellsbeach.school.nz, or by calling the school office 09 425 6058. 
Following our school Facebook page or Instagram
"Snells Beach School", which operate as a digital newsletters. This is a great way to get quick updates and reminders
Downloading our School App
Simply download the "Skool Loop" app from either App Store or Play Store & select "Snells Beach School" from the drop down box to receive instant notifications & reminders.
Subscribing to our school email database
Please email us admin@snellsbeach.school.nz to be added to the list. If you do not receive this newsletter via email on Friday afternoon, you are NOT in our database. All new families should have been added – please check. You can unsubscribe at any time.
Crossing Safety
Our pedestrian crossing makes a huge difference in terms of safety for our students and whanau. They can clearly be seen, and the raised design is making a big difference to traffic speeds in front of our school. Please, please, if you are crossing Dawson Rd with your child, use the crossing. It may be a few extra steps out of your way, but if you don't use the crossing, they won't when you are not with them, and other kids may well run across also, because they saw an adult doing that. It is so busy out there, particularly around pick up time, with the buses moving through and many cars – we need to work together to keep our kids safe.
Staff Carpark
Also, for safety reasons, please don't park in the staff carpark. They only way in and out is to drive directly over the path where the kids exit the school, which is incredibly dangerous. Kids are unpredictable – we would hate for one of our students to be injured by a car, which could have been prevented simply by the car not being there in the first place. 
Brain Food for Brain Break
To enable a longer block for Literacy Learning, we have moved the morning tea break to 11:00am. Because this is quite a late morning tea, classes will have a "brain break" to grab a drink and a quick snack around 10:00am. This snack should be simply a piece of fruit, veges (eg carrot sticks) or nuts. Students are allowed drink bottles in class – but please make sure these are named. 
Snells Beach School Hockey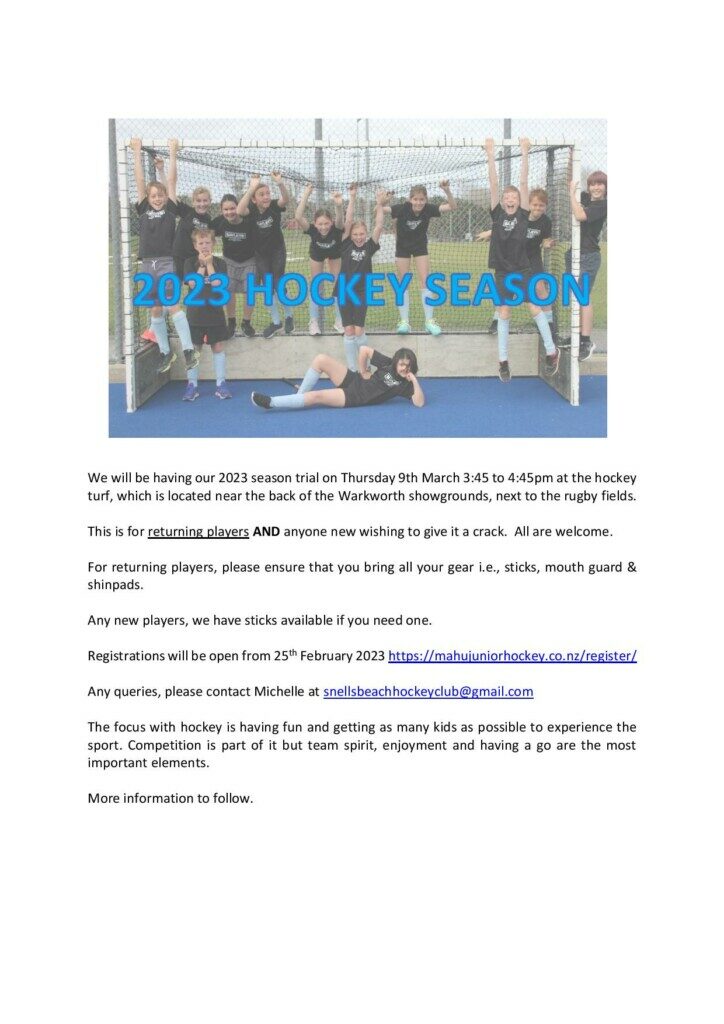 SNELLS BEACH NETBALL WINTER 2023 SEASON
Calling all netballers and anyone new keen to give netball a go and get involved in a team sport and have some fun! Both girls and boys are welcome from Year 1 to 6!
Snells Beach Netball are holding a 'Registration Afternoon', Tuesday the 14th March 3- 4pm at the Snells Beach School netball courts. If you want to find out more about Snells Beach Netball, ask any questions, meet some new people, register your child to learn a new skill, please join us. If you can't make registration day but are keen for your child to play, please let us know ASAP by emailing snellsbeachnetball@gmail.com. Players from last year will also be emailed.
Winter netball starts Saturday mid May 2023, Term 2.
Info: The winter season games are all played in Wellsford on a Saturday morning, season runs from May to September (weather dependent). Training will be one afternoon after school starting Term 2 (days & times will be determined once teams & coaches are finalised).
There are different year grades depending on player numbers and helpers, starting from Year 1 through to Year 6.
Cost for the subs for the season:
Year 1-4 $60
Year 5-6 $85
Parent Help/Volunteers:
Snells Beach Netball is run purely on parent help and volunteers and we would love to get more people on board so please come along on the Tuesday to find out more. Any other questions please feel free to email snellsbeachnetball@gmail.com or contact Loran Cowley 0211756131
Rugby with Mahurangi Rugby Club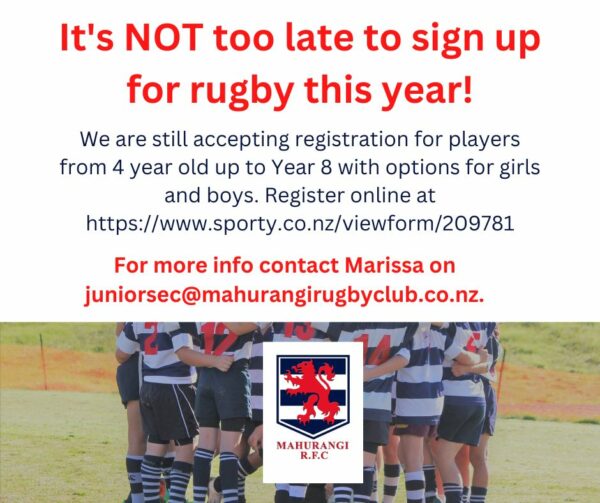 Football with Matakana Football Club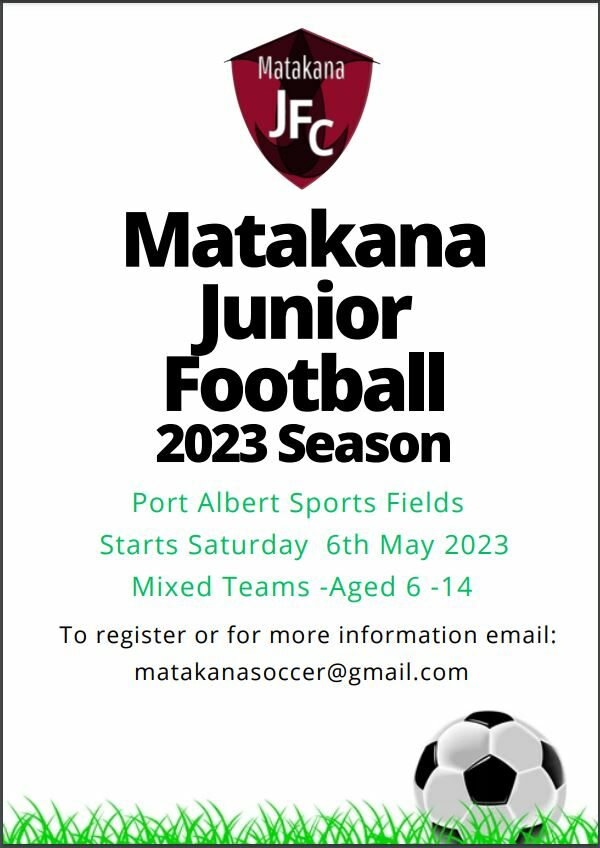 Football with Warkworth Football Club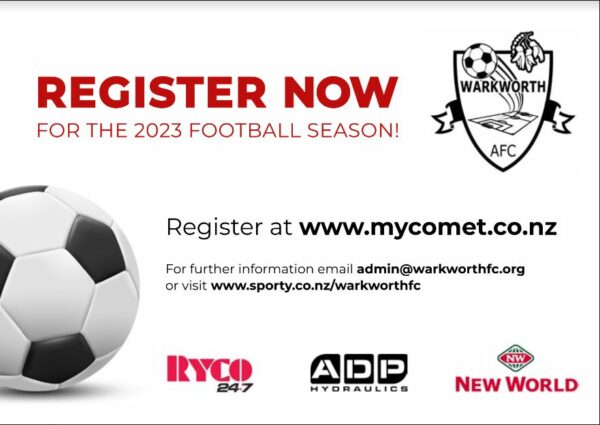 Rippa Rugby League
One of our lovely SBS whanau is going to run a Rippa Rugby League session for our tamariki on a Sunday afternoon at Goodall Reserve starting this week, times as below:
4pm: Y5/6 Girls
4.30pm: Y5/6 Boys
5pm: All ages welcome
Parent involvement is encouraged, for more information contact Kris on krisrivett@mac.com
Raft Race supporting our local Coastguard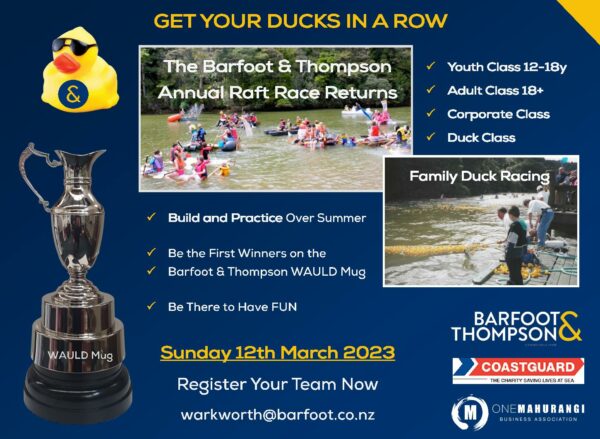 Totally Psyched Warkworth
We are a privately owned children's and adolescent's psychology clinic that offers a varied range of therapies to help families. The flyer attached is for a group therapy for children to help with socialising by collaborating with others to play with Lego.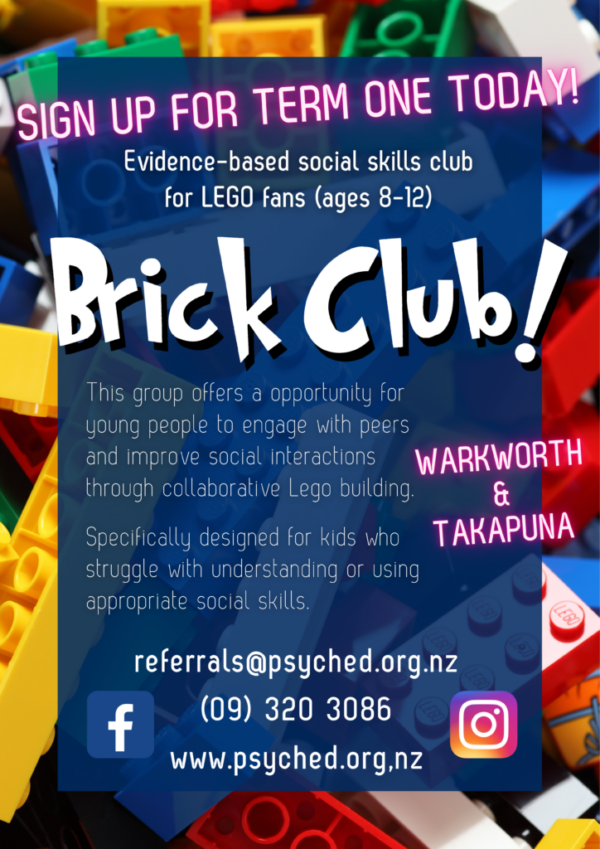 Thanks to our new school sponsor, Central Landscape Supplies in Warkworth, for helping us to keep our grounds looking so tidy!


Print or Save this Post