Tēnā Koutou, Talofa Lava, Malo e Lelei, Namaste, Ni sa bula, Noaia'e mauri, Fakalofa lahi atu, Kia Orana, Ni Hao, An Nyung Ha Sai Yo, Nay Ho, Hej, Hallo, Sawat Dee, Cześć, Goeie Dag, សួស្តី, Здравствуйте, hola. Greetings to our school families.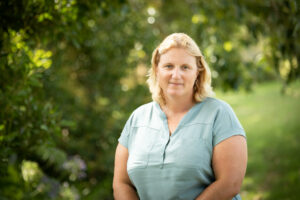 There has been a lot happening over the past few weeks – learning programmes are running smoothly, trips to support class inquiries are underway and winter sports codes are getting organised (check below for further details). 
We are all looking forward to a good night out at the PTA Disco next Friday 31 March 6:00 – 7:30pm – parents and preschoolers welcome, but no older siblings or non SBS kids please.
Next Thursday the PPTA (Post Primary Teachers' Association – Secondary Schools) are striking. This will not affect SBS – primary schools will remain open. Our Union negotiation talks are continuing. I am feeling pretty frustrated on the media focus on pay. Yes, pay is an issue – new teachers with a degree earn marginally more than the living wage and quite frankly would be financially better off working in some of the larger chain stores in the area. 44% of new teachers leave the profession within 5 years, and many of our experienced teachers leave for better opportunities. But if you read the claims, (link below), you will see that many are actually based around resourcing our schools appropriately so we can best support our kids. Did you know that all 8 schools in our area, (including Mahurangi College), share access to one Educational Psychologist, who only works half a week? Our kids needing the most support simply can't get it. The waiting list to see a counsellor in our school is pages long. We need to provide more support to help kids be in a position to learn, and to ensure that other kids do not have their education affected, because those who need help can't get it.
NZEI Claims link here: https://campaigns.nzei.org.nz/time/campaign-negotiation-and-claims/
Ngā mihi nui,
Kathryn Ramel
Principal
School Diary
Week 9: Mon 27 Mar – Fri 31 Mar
Weds  29.3  

Year 6 visit to Takana Nursery/Parry Kauri Park

Fri 31.3

Full School Assembly – Class Tot 2

Pizza Fri (Fundraising for Yr 5 Camp)
Week 10: Mon 3 Apr – Fri 7 April
Mon 3.4 Year 5 Camp
Tues 4.4 Year 5 Camp
Weds 5.4 Year 5 Camp
Thurs 6.4 Full School Assembly, Last Day of School!
Fri 7.4 Good Friday – start of school holidays
Term 2 starts on Weds 26 April. 
Mon 24 April is a nationwide Teacher Only Day on the refreshed NZ Curriculum
Tues 25 April is ANZAC Day
Welcome to our new students – we hope you enjoy your time at our school!
Grace B and Hunter L
World Happiness Mufti Day – Cyclone Relief
We were pleased to donate $479.40 to the NZ Red Cross Disaster Fund to support those affected by Cyclone Gabrielle. 
Puriri 1 and 2 trip to Warkworth Museum
Last week Puriri 1 & 2 went to Warkworth Museum to learn more about the early settlers in our area. Inside the museum we discovered the importance of the Mahurangi River, we wove stories about how Snells Beach and Algies Bay got their names and also explored the museum artifacts. A favourite activity was the treasure hunt upstairs, followed by dressing up and attending school in an 'olden days' classroom. Outside we learnt about the native trees, particularly our Puriri tree and walked the bush walk. We are extremely grateful to the museum helpers and volunteers and all had a most enjoyable day.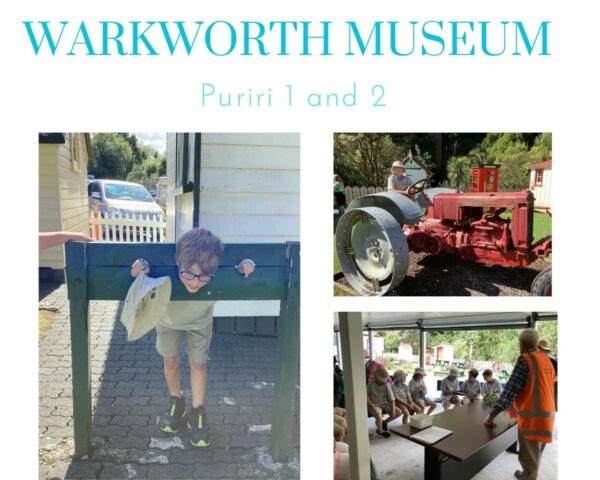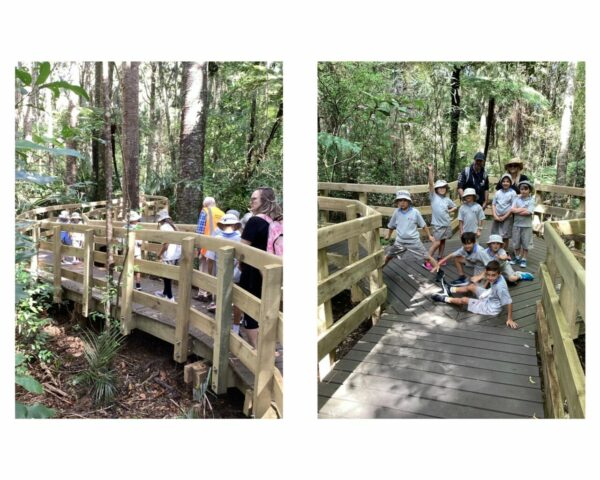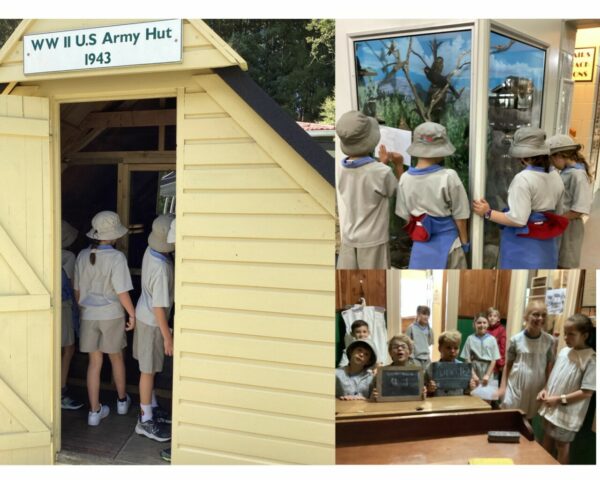 North Harbour Rugby Girls "Have-a-go" Day
In week 7 we were lucky to have North Harbour Rugby visit SBS to run a fun day for our girls. Rippa rugby, quick rip and tackle rugby are growing sports for girls at present and our girls had a great time giving it a go!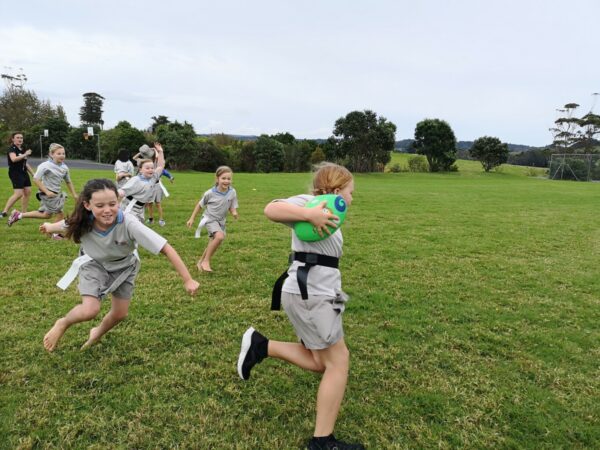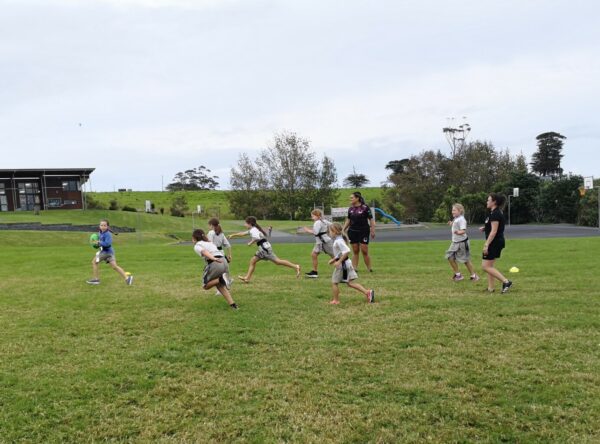 PTA Disco coming up next week
The school Disco is one week away! The music is ready, the disco ball is sparkling and the kids are excited! A BIG thank you to our amazing local sponsors for making this event the biggest and best yet.
ECM Barber and Tattoo will be bringing you the ECM Kids Tent including hair styling, stick on tattoos and face jewels for the kids.
Bayleys Real Estate for supplying the sausage sizzle with a sizzle. All proceeds from these will go to supporting our kids. Snacks and drinks will also be available at the event.  Please bring cash.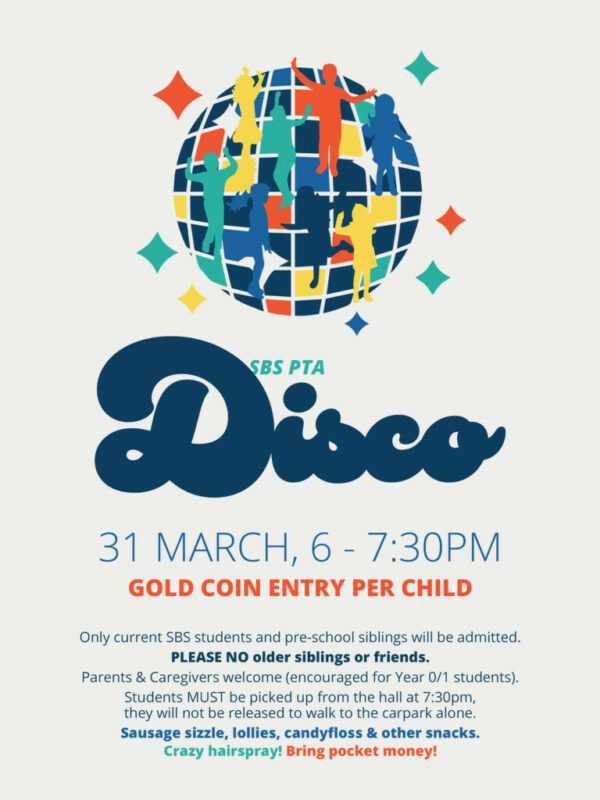 Pizza Friday – next week. Orders must be placed by Thurs 9am. 
Next Friday we will be holding a "Pizza Friday" with all proceeds going to support our Year 5 students to attend camp the following week. All orders must be placed by 9:00am on Thursday – no late orders can be catered for. Wherever possible, please send cash, as the administration pressure in our office is huge. However, if you have money remaining in an account here at school from last year, your credit will show on the order sheet held by the teacher and the order can be added to the sheet. Please check with the office if you are unsure about your credit.  Prices are:
plain cheese $3 per quarter
ham & cheese $3 per quarter
gluten free cheese $4 per quarter
juicies $1.50 (frozen fruit juice in an ice block form)
All orders must be placed on order lists with class teachers.
Crazy helmet or hair Walking Wednesday 29th March
Dress up your helmet or hair and come to school in a Travelwise way.
Earn house cards
Go into the prize draw
Cool spot prizes
Travelwise ways to come to school:
Walking
Cycling
Scootering
Bus
Park and walk (if you have to come by car, park at the top of Dawsons Road/Foster Cres and walk the rest of the way to school)
Donation to the school
You may have noticed a number of caravans/motorhomes using the school field last weekend. The Akarana Caravan Club has donated $348 to Snells Beach School as a token of their appreciation. We were pleased to hear that they enjoyed all our beautiful area has to offer, despite the intense rain we had at the start of their stay!
Car parking at pickup
We have had several residents in the local area let us know that they are having issues with whanau parking across their driveways around pick up/drop off time. Please be respectful and and consider others. We need to ensure that everyone in our areas is safe, particularly at peak times. 
Keeping in touch
In current times more that ever, keeping in touch is important. We need to be able to contact whanau quickly and efficiently. If you have changed address or contact details, please let us know asap, either via email admin@snellsbeach.school.nz, or by calling the school office 09 425 6058. 
Following our school Facebook page or Instagram
"Snells Beach School", which operate as a digital newsletters. This is a great way to get quick updates and reminders
Downloading our School App
Simply download the "Skool Loop" app from either App Store or Play Store & select "Snells Beach School" from the drop down box to receive instant notifications & reminders.
Subscribing to our school email database
Please email us admin@snellsbeach.school.nz to be added to the list. If you do not receive this newsletter via email on Friday afternoon, you are NOT in our database. All new families should have been added – please check. You can unsubscribe at any time.
Crossing Safety
Our pedestrian crossing makes a huge difference in terms of safety for our students and whanau. They can clearly be seen, and the raised design is making a big difference to traffic speeds in front of our school. Please, please, if you are crossing Dawson Rd with your child, use the crossing. It may be a few extra steps out of your way, but if you don't use the crossing, they won't when you are not with them, and other kids may well run across also, because they saw an adult doing that. It is so busy out there, particularly around pick up time, with the buses moving through and many cars – we need to work together to keep our kids safe.
Staff Carpark
Also, for safety reasons, please don't park in the staff carpark. They only way in and out is to drive directly over the path where the kids exit the school, which is incredibly dangerous. Kids are unpredictable – we would hate for one of our students to be injured by a car, which could have been prevented simply by the car not being there in the first place. 
Brain Food for Brain Break
To enable a longer block for Literacy Learning, we have moved the morning tea break to 11:00am. Because this is quite a late morning tea, classes will have a "brain break" to grab a drink and a quick snack around 10:00am. This snack should be simply a piece of fruit, veges (eg carrot sticks) or nuts. Students are allowed drink bottles in class – but please make sure these are named. 
Dance Time Warkworth
Got a kid who loves to dance?
At Dance Time Warkworth, we offer kids a fun and enjoyable way to dance with different styles to offer including Littlies Ballet, Jazz classes and Hip Hop.
Established in 2022 we have gathered an amazing community of kids who love each class. Teachers Jess and Amali have a combined 20+ years of dance experience through all levels and have a passion for making dance a fun experience.
We are located just down the road from school at the Shoesmith Hall in Warkworth, with our timetable on Facebook – Dance Time Warkworth.
Or contact Jess at dancetimewarkworth@gmail.com
Rippa and Tackle Rugby  for girls and boys with Mahurangi Rugby Club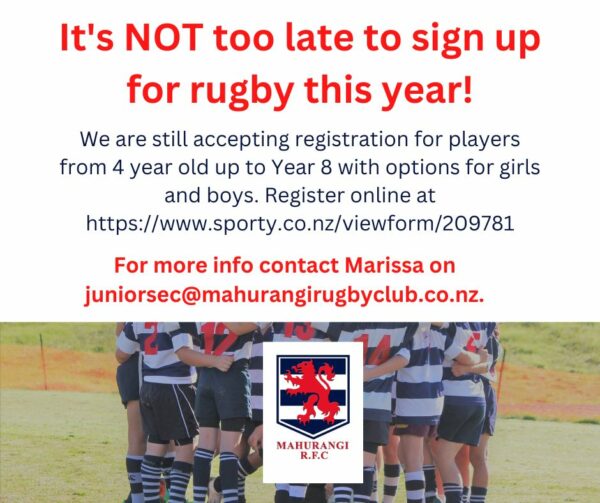 Football with Matakana Football Club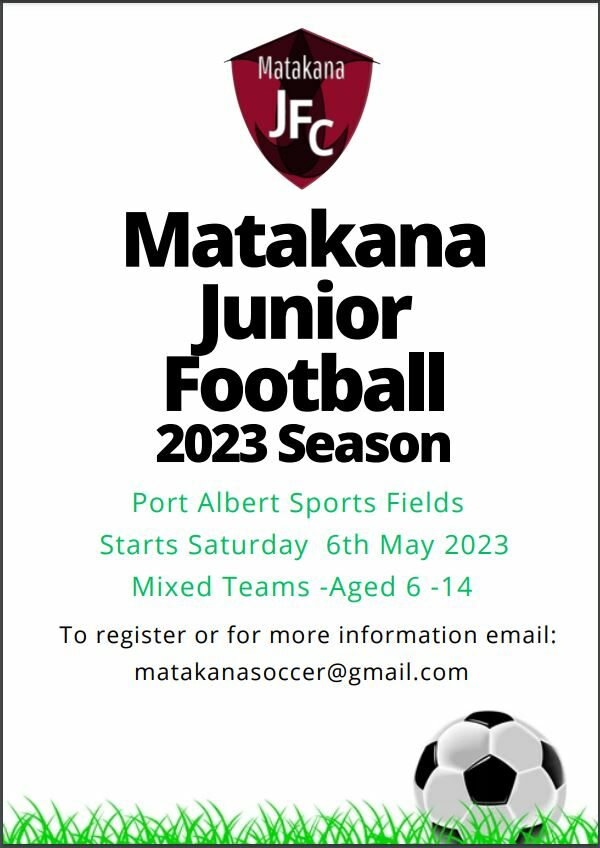 Football with Warkworth Football Club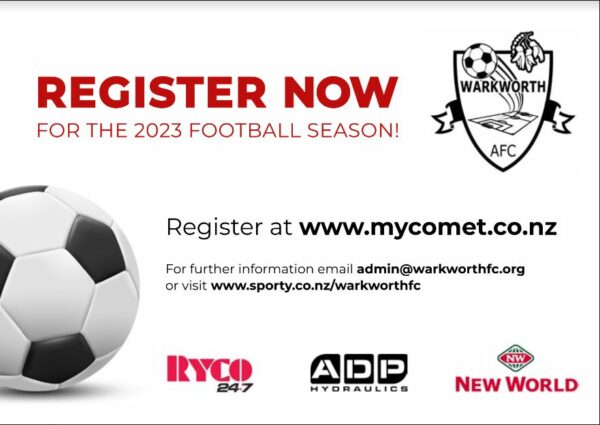 Rippa Rugby League
NOTE: THIS WILL NOT BE ON THIS SUNDAY BUT WILL RE-START NEXT WEEK, SUNDAY 2ND APRIL
Kids looking for a run around on a Sunday afternoon? One of our school dads, Kris, has been running a tag rippa rugby group. He is now doing this at the SBS field from 4-5pm starting this Sunday. All ages are welcome!
Parent involvement is encouraged, for more information contact Kris on krisrivett@mac.com
Kids theatre production for the school holidays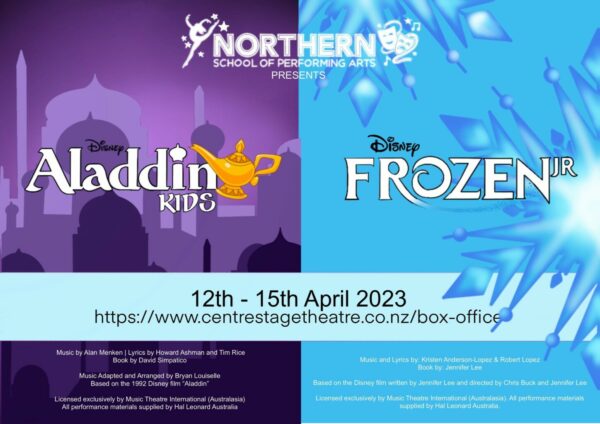 Totally Psyched Warkworth
We are a privately owned children's and adolescent's psychology clinic that offers a varied range of therapies to help families. The flyer attached is for a group therapy for children to help with socialising by collaborating with others to play with Lego.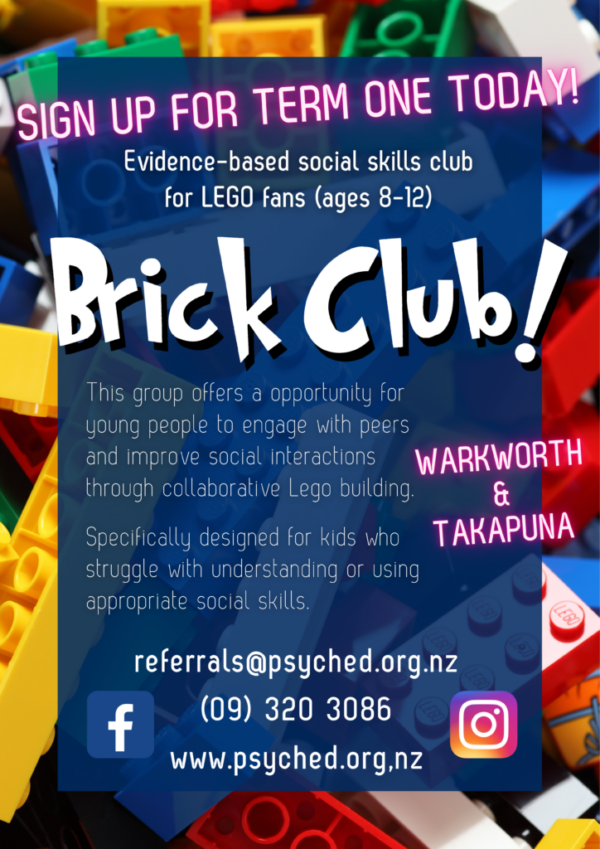 Thanks to our new school sponsor, Central Landscape Supplies in Warkworth, for helping us to keep our grounds looking so tidy!


Print or Save this Post