Tēnā Koutou, Talofa Lava, Malo e Lelei, Namaste, Ni sa bula, Noaia'e mauri, Fakalofa lahi atu, Kia Orana, Ni Hao, An Nyung Ha Sai Yo, Nay Ho, Hej, Hallo, Sawat Dee, Cześć, Goeie Dag, សួស្តី, Здравствуйте, hola, 안녕하세요Greetings to our school families.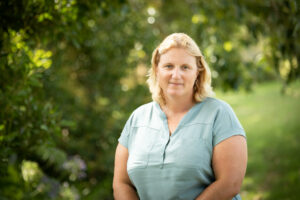 Welcome to Term 2! There is so much coming up over the next few weeks – please check the School Diary below to help you keep track. There are a combination of events for kids and information for parents – exciting stuff!
Our Value for term 2 is Rangimarie, Peace, and it seems an extremely relevant one for the world right now. The Key Reflection Points are:
Peace is being quiet inside
Peace is having good feelings inside
Peace is when people get along and don't argue or hit
Peace is having positive thoughts about myself and others
Peace begins within each one of us.
Our Goals are:
To increase the experience of peace
To increase knowledge about peace
To build conflict resolution skills
Talking about these concepts at home will reinforce our learning here at school. The world can always use a little more peace.
And finally, a big welcome to all our new families and whanau – we hope you feel part of the SBS family quickly.
Ngā mihi nui,
Kathryn Ramel
Principal
School Diary
Week 2: Mon 1 May – Fri 5 May
Wed 03.05 

Year 6 Camp Meeting 5:30pm Totara 2,

Zara the Zebra – Crossing Safety (details below)

Thurs 04.05    Y3/4 trip to Kawau Island
Week 3: Mon 8 May – Fri 12 May
Tues 09.05

Inter School Netball (Year 5/6)

Weds 10.05  Year 3/4 to Kawau Island SAVE DAY. Childhood anxiety and ADHD: Parenting in a neurodiverse world 7pm) details below),

Zara the Zebra – Crossing Safety,

Year 1's Trip To Donkey Park 

Thurs 11.05

Mary SLT

Year 1's Donkey Park Trip Save The Day

Fri 12.05

 Whole School Assembly 9:10am (Kau 2) Mini Gala 12:30pm – 2:00pm (details below). 
Week 4: Mon 15 May – Fri 19 May
Tues 16.05

Year 2 Auckland Zoo 8.30-4,

Bike Ambassador Day (Year 6 only) – Heather Manning/Janet Stark

Wed 17.05    Year 0 – 2 Literacy Information Evening for parents and whanau – details to come closer to the time

Thu 18.05

EPRO8 Internal Event (Year 4 – 6 Enrichment Students)

Fri 19.05

EPRO8 Internal Event (Year 4 – 6 Enrichment Students)
Welcome to our new students – we hope you enjoy your time at our school!
Jasmine H, Louis H, Chloe M, Cooper M, Jamie M, Archer O, Noah P, Ronnie P, Clara J, Beau R, James V
And a big welcome back to Reef H!
What's new, Who's who?
A big welcome to Mr Ben Howson, who will be teaching Totara 1 for the remainder of the year. Many of you will know Ben, as a long time member of our parent community, and a well respected teacher in the local area. Of late, Ben has been teaching at the intermediate level, but is also experienced in the primary environment – this experience will enable him to support the students to be ready for their transition to Year 7 after this year. Ben is committed to Tōtara 1 for the rest of the year to provide consistency for the students, and is really looking forward to Camp Tongariro this term! We are delighted to have him on the crew!
We are sad to farewell Mr David Tomes, our Caretaker, who is leaving to spend more time with his family. David has been an absolute trouper and certainly leaves SBS in a better place that when he started. We wish him all the best in the future, and know he will keep an eye on the place when he walks past on his regular dog walks. Go well David.
Mini Gala 2023 – All Welcome! Fri 12 May 12:30pm – 2:00pm.
Our annual Mini Gala is on it's way! This event is totally planned and managed by our Senior Students in Years 5 & 6. The students organise and run stalls, from which all proceeds go towards lowering the cost of Camp Tongariro for our Year 6 students. The Year 5's help, knowing that they, in turn, will be supported as Year 6's next year. As a community, we get in behind our kids and support them to attend camp.
This event is open to the whole family and community, and we encourage parents of younger students especially to attend. There will be:
sausage sizzle
smoothies and other food
fun games
second hand stall
yummy baking
raffles
Students bring pocket money to spend – please pop this in a purse, wallet or zip seal bag that is named. (Lost wallets are handed in every year, complete with money, and this helps us return them to their owner). Younger students should hand their spending money to their teachers for safe keeping in the morning.
Parents and whanau are welcome to attend. Here are some photos from previous Mini Galas to give new families an idea of how this works:
Brilliant new Basketball Hoops thanks to NZ Community Trust
The many basketball fans in the school have been stoked to return to brand new, fully adjustable basketball hoops and new court markings (in Breakers colours of course). Basketball is hugely popular in this area, and our old hoops were not really up to the amount of use they were getting. This would not have been possible without a grant from NZ Community Trust & their venue the Salty Dog Inn – we are so appreciative for their support. And a huge thank you to Marissa who was the driver behind this project – many of the special things we have around the school have Marissa behind them, we are very lucky.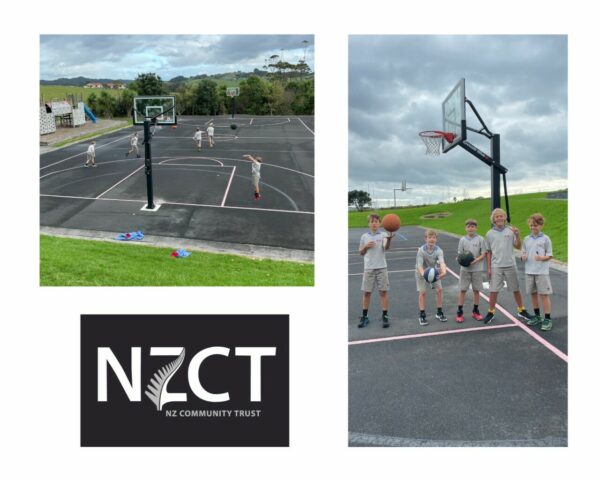 Join a Biking School Bus!
The Ariki Express Cycle Train is all set to start this term – students can ride to school supervised by a parent "Bus Driver". The Bus route will be:
ARIKI EXPRESS ROUTE – Biking School Bus
8am – Bottom of Ariki Drive by the beach
8.05am – Sunrise Boulevard Playground
8.10am – Dalton Road Playground
8.15am – Dalton Road/Mahurangi East Road Bus Stop
8.17am – Mahurangi East Road/Iris Street
8.19am – Iris Street/Foster Cres
For a permission slip and to enrol your child, please contact Miss Sarah Jolliffe in Rimu 2 or email sjolliffe@snellsbeach.school.nz
Zara the Zebra – Crossing Safety
Watch Out! There's a zebra about! Zara the Zebra will be out and about over the next few weeks checking that everyone, including grownups, are using the zebra crossing outside the school Using the crossing keeps everyone safe and keeps Zara happy. Please use this as a fun reminder with your kids – if they run over the road with you, they will run over the road by themselves which clearly isn't safe.
Year 6 Camp Tongariro Meeting
There will e a meeting for all parents and whanau of our Year 6 students regarding Camp Tongariro next Wednesday 3rd May at 5:30pm in Totara 2. This will provide you with information about the camp, costings, parent help and an opportunity to ask questions. Please come along. 
PTA Movie Night – Lock it in!
Plans for Mothers Day? Grab a ticket for Thurs 11 May for a fun local night out brought to you by our fabulous SBS PTA. Some excellent raffle prizes to be won on the night too! 'Book Club – The Next Chapter' Follows the new journey of four best friends as they take their book club to Italy for the fun girls trip they never had. Love your SBS PTA x    pta@snellsbeach.school.nz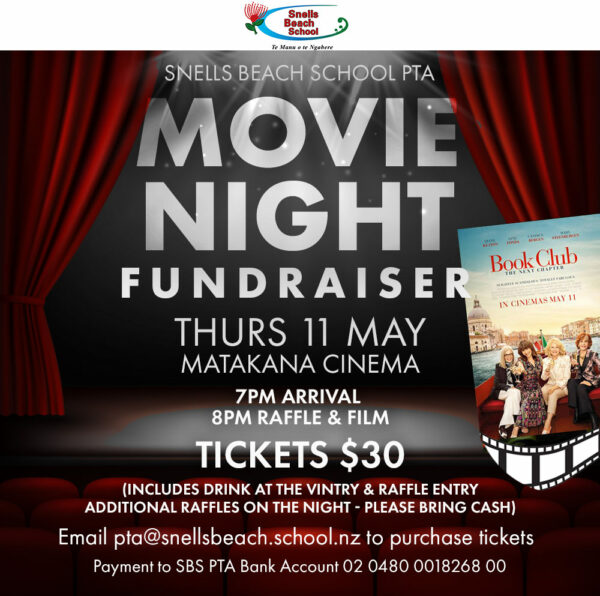 SBS PTA UPDATE
Huge thanks to our amazing PTA for the brilliant disco at the end of last term. Such a great night – the kids had a ball (& plenty of adults were busting out their moves too!). Special thanks to everyone who helped on a stall or to run the event on the night, especially ECM for their super cool "Tattoo", "Piercing" and hair stand and Dahnie Burton – Bayleys Real Estate & Kim Clementson Bayleys Mahurangi for sponsoring the sausage sizzle on the night. The disco made $2,200 for our school!
The next PTA Meeting is 7pm Mon 1 May in the staffroom  – come along, meet some new mates and do something positive that benefits our kids 🙂
Childhood anxiety and ADHD: Parenting in a neurodiverse world
INFORMATION EVENING held at Snells Beach School on Wednesday 10 May at 7:00pm. Everyone Welcome.
The Mahurangi Kāhui Ako have arranged a free presentation that many of you may wish to attend.
Speaker: Dr Sarah Watson
Sarah is the Founder, Managing Clinic Director, and a registered Child & Adolescent Clinical Psychologist at Totally Psyched, based in Warkworth and Takapuna.
Sarah specialises in working with children, adolescents and families across a variety of areas, especially neurodiverse young people and their parents. She runs ADHD parenting groups, lectures in GP & psychiatry training at the University of Auckland and contributes to magazines, peer reviewed journals, radio, conferences, television and documentaries.
Covid has seen record rates of anxiety in NZ children.
ADHD, neurodiversity and anxiety are often cosy bedfellows – why?
Are kids experiencing it more now and why?
How would you know?
Speech Language Therapy Sessions Here At School
One of our parents, Kendall Stewart is a Speech Language Therapist.  She is running private therapy sessions every Wednesday at school. If you have any concerns regarding your child's pronunciation, language use, comprehension or stuttering then give her a call, text or email. Together you can discuss whether Speech Therapy could help. 0275888879
Reactor Drama – Term 2, 2023
Our classes are tailored to the capabilities and talents of the students in each class. Through games, skits, theater sports, script work, improvisation and more we work to encourage and nurture confidence and a love of performing.
Mondays (24th April start) at the Betty Paxton Room- Snells Beach
3:30-4:30 (recommended Year 4-6)
4:30-5:30 (recommended Year 7+)
Thursdays (27th April start) at the Matakana Hall- Matakana
3:15-4:15 (recommended Year 5-6) LIMITED SPACES AVAILABLE
4:20-5:20 (recommended Year 7+) LIMITED SPACES AVAILABLE
Limited spaces available in each class. Waitlist options available. Register your interest with Kendall on 0275888879 or reactorclass@gmail.com
Further information can be found on our facebook page: https://www.facebook.com/reactordrama
Glass Ceiling Arts Collective Youth Theatre Programme
Some of our senior students are performing in the young actors edition of the Andrew Lloyd Webber Musical Cats, in the Warkworth Town Hall from Friday May 12 – Sunday May 14. Champions for accessibility, Glass Ceiling Arts Collective is striving to remove financial barriers for audiences by providing low cost tickets, and 20 "pay what you can" tickets for each show. To find out more or to buy tickets visit www.glassceilingartscollective.com. So head along and take the kids to a classic!
Dance Time Warkworth
Got a kid who loves to dance?
At Dance Time Warkworth, we offer kids a fun and enjoyable way to dance with different styles to offer including Littlies Ballet, Jazz classes and Hip Hop.
Established in 2022 we have gathered an amazing community of kids who love each class. Teachers Jess and Amali have a combined 20+ years of dance experience through all levels and have a passion for making dance a fun experience.
We are located just down the road from school at the Shoesmith Hall in Warkworth, with our timetable on Facebook – Dance Time Warkworth.
Or contact Jess at dancetimewarkworth@gmail.com
Keeping in touch
In current times more that ever, keeping in touch is important. We need to be able to contact whanau quickly and efficiently. If you have changed address or contact details, please let us know asap, either via email admin@snellsbeach.school.nz, or by calling the school office 09 425 6058. 
Following our school Facebook page or Instagram
"Snells Beach School", which operate as a digital newsletters. This is a great way to get quick updates and reminders
Downloading our School App
Simply download the "Skool Loop" app from either App Store or Play Store & select "Snells Beach School" from the drop down box to receive instant notifications & reminders.
Subscribing to our school email database
Please email us admin@snellsbeach.school.nz to be added to the list. If you do not receive this newsletter via email on Friday afternoon, you are NOT in our database. All new families should have been added – please check. You can unsubscribe at any time.

Print or Save this Post