Tēnā Koutou, Talofa Lava, Malo e Lelei, Namaste, Ni sa bula, Noaia'e mauri, Fakalofa lahi atu, Kia Orana, Ni Hao, An Nyung Ha Sai Yo, Nay Ho, Hej, Hallo, Sawat Dee, Cześć, Goeie Dag, សួស្តី, Здравствуйте, hola. Greetings to our school families.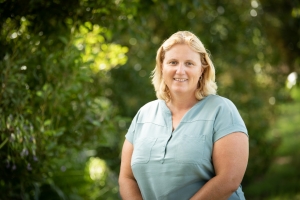 I hated Cross Country when I was a kid. I was hugely competitive in sport, and loved all ball sports, but dreaded running up Mt Roskill for our annual school event. The thing was, I played to win. And I was NEVER going to be successful at Cross Country – it just wasn't my thing. After leaving school and playing competitive sport at the top level for a long time I finally discovered that social sport could also be a huge amount of fun, and that setting and achieving your own goals could ultimately give you the same buzz as a big win in the competitive arena. The day I completed (trudging, slowly) a half marathon is still something that makes me feel proud.
We don't do a "fun run" for our Cross Country. We cheer for those that glide along and make it look effortless at the front, and enjoy watching the competition. To feel enjoyment for our friends' success is a life skill this world needs more of. And equally we cheer the kids whose goal is simply to finish, those that run with a mate, those that try to run more than they walk. Kids setting and achieving goals at their level. And every year, cheering everyone home is one of the highlights of the year.
Ngā mihi,
Kathryn Ramel
Principal
School Diary
Week 4: 15 – 19 Aug
Tues 16.8 Year 5/6 Trip to Re:Sort Centre

Weds 17.8

School Cross Country (details below)
Weds 17.8 Kylie Ryan "Primary & Tweens" at Matakana 7:00pm – 9:00pm (a repeat of the session here)
Week 5:  22 – 26 Aug
Mon 22.8

Nathan Wallis – the Teen Brain 7:30pm – 9:00pm at Mahurangi

College (details below)

Tues 23.8

Staff Meeting,

Year 3 Whitebait Connection-Hall 9.30am

Weds 24.8

Teacher Only Day (details below)

Thurs 25.8

Taurima Kapa Haka 10:00 – 1:00 at Mahurangi College (details below)

Fri 26.8

Full School Assembly (2pm in the hall)

Class: Pur 2
Fri 26.8 Junior (Year 0-3) poetry competition in Hall- finalists   9.15am
Week 6: 29 Aug – 2 Sept
Tues 30.8

Inter School Cross Country

Tues 30.8 Whitebait Connection Year 3 Field Trip

Weds  31.8

Kylie Ryan Tweens & Teens at Mahurangi College 7pm – 9pm

Weds 31.8 Speech Finals Year 4-6 (Middle Block)
Welcome to our new student – we hope you enjoy your time at our school!
Zahir J
Reminder: Teacher Only Day – Wednesday 24 August
There is a Teacher Only Day coming up on Wednesday 24 August. (Mahurangi College have one the same day).
Kelly Club will be open and available for those needing child care. School day (9am – 3pm) $40, full day (7:30am – 5:30pm) $50. Bookings available as usual through the Kelly Club Website.
14th Annual Snells Beach Cross Country 2022
All students have been training fort our annual Cross Country next week. It's a time for our competitive runners to battle it out from the front and for everyone else to set goals, support one another and feel the pride of finishing. Cross Country is a winter event – running through the mud is part of the challenge and the fun! Students will likely get dirty, and races will go ahead unless the weather is really bad. Parents, whanau and supports are welcome! Here's a run down of things that you need to know for the day:
When: next Wednesday 17 August
Wear: regular school uniform to & from school (this is so everyone has something clean and dry to wear afterwards).
Shoes: Year 5 & 6 students must run in shoes as they have a road circuit as well. For Year 0 – 4 students, shoes are optional, but be prepared for them to get very muddy!
Bring: Mufti to run in (if you can, a top in their house colours – Scows: red, Schooners: green, Dories: blue, Cutters: yellow), a drink bottle, big lunch, an old towel (to wipe off after), their school fleece, and a warm jacket if you wish.
Supporters: are welcome! Please note that the students run along the path by the retaining wall by the field, so if you are sitting on the retaining wall, please stay well back and keep an eye on pre-schoolers.
Parent Help: We would love a few parents to act as marshalls on the road circuit for the Year 5 & 6 students! Please email Mr Morley tmorley@snellsbeach.school.nz if you can help
Approximate start times: Next race will be warming up while race is on.
11.00 – Y.0/1 Girls x 1 lap

11.10 – Y.0/1 Boys x 1 lap

11.20- Y.2 Girls x 1 lap

11.30-Y2 Boys x 1 lap

11.40 Y.3 Girls x 2 laps

11.50. Y.3 Boys x 2 laps
Lunch 12:30pm – 1:00pm
1.10pm Y.4 girls (2 laps)

1.20pm Y.4 boys (2 laps)

1.30pm Y.5 girls (2 laps plus road circuit)

1.45pm Y.5 boys (2 laps plus road circuit)

2.00pm Y.6 girls (2 laps plus road circuit)

2.15pm Y.6 boys (2 laps plus road circuit)
House Points are given to the top 10 place getters. The top 5 place getters receive a certificate at Assembly, and go on to compete at the Inter School event in a few weeks time.
Taurima Kapa Haka
Our Senior Kapa Haka Roopu will be heading off to an event in a few weeks: Taurima Kapa Haka at Mahurangi College. This event has been organised by the Mahurangi Kahui Ako for all schools in our area. Students will experience a powhiri, have an opportunity to perform, learn new waiata and haka and share some kai. The focus is on building confidence and growing our knowledge. Permission slips and further information will be coming home next week. 
Inter School Hockey Success
Well done to all our Year 5 & 6 students who went off to compete at the Inter School Hockey tournament last week. The teams were a mix of our Saturday morning players, and players keen to have a go on the day. Many thanks to the parents who came along to help coach and support, and to Miss Jackson for organising the teams on the day. Here's a pic of SBS 3, who were the runners-up in the tournament – a great effort!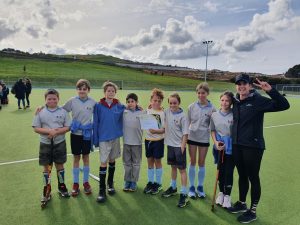 Having fun and Supporting our Community
It's so nice to have fun events to look forward to – thanks to everyone who came to school in mufti this week for our Wild, Wacky, Wednesday Walking & Wheels Day – getting crazy, having fun, helping others. Miss Ramel felt humbled to hand over a huge amount of food to the Warkworth Christian Foodlink, managed by the Warkworth Presbyterian Church. This organisation have tirelessly supported families in need in our community, and we have always been amazed at how generously they have supported school families over the years. It was lovely to give back. For further pics of some of the outfits on the day, see our Facebook page.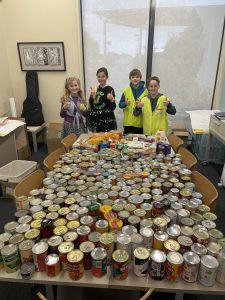 Kylie Ryan "Primary & Tweens" & Teens Sessions coming up
Our evening here on handling those tough questions around puberty, sexuality and keeping children safe at a primary level was well attended last week. For those that missed it, Kylie will be repeating the session at Matakana School next Wednesday 17 August, 7pm-9pm. Anyone can attend. For those with older kids, Kylie will be presenting a Tweens & Teens info evening at Mahurangi College from 7pm – 9pm on Weds  31 August. All of Kylie's events are free. 
Nathan Wallis – The Teen Brain
Teens are complicated characters. Nathan Wallis is an engaging speaker, who finds a good balance between humour and info. Nathan shares ideas and understanding of how to navigate those tricky years, based on extensive research. A hugely important presentation for parents to attend. Tickets are $35.88 and available through Eventfinda.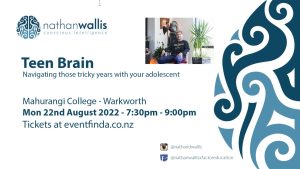 Snells Beach Garden Circle annual Flower Show
The Snells Beach Garden Circle are staging the annual Flower Show on Saturday 3rd September this year children are welcome to participate.
Viewing to the public is from 1.00pm 3.30pm.
Children's flower arranging competition for 3rd September Show:
5 years and under An arrangement in a saucer.
6- 8 years olds An arrangement in a saucer
9-12 years olds A design in an ice cream container
Important
Write the child's name underneath the plate . Bring the entries to the Mahurangi Community
Centre on Friday 2nd September between 3 – 4pm, otherwise at 9- 9.30am show day 3rd
September.
Could you please pick up your own entries 3 -3.45 pm on Show day 3rd September.
Thanking you
Barbara Carpenter
Show Convenor phone 4255371
Totally Psyched – Mental Healthcare for Families, Teens & Kids
Totally Psyched are a compassionate team of professional, highly qualified psychologists, doctors and therapists who are dedicated to supporting your child every step of the way. Located in Warkworth. For a detail list of services, please check out our school Facebook page.
Speech Language Therapy Sessions Here At School
One of our parents, 
Kendall
 Stewart is a Speech Language Therapist.
She is running private therapy sessions every Wednesday at school.
If you have any concerns regarding your child's pronunciation, language use, comprehension or stuttering then give her a call, text or email.
Together you can discuss whether Speech Therapy could help.
0275888879

Print or Save this Post