Tēnā Koutou, Talofa Lava, Malo e Lelei, Namaste, Ni sa bula, Noaia'e mauri, Fakalofa lahi atu, Kia Orana, Ni Hao, An Nyung Ha Sai Yo, Nay Ho, Hej, Hallo, Sawat Dee, Cześć, Goeie Dag, សួស្តី, Здравствуйте, hola. Greetings to our school families.
School Diary
Week 2: 1 – 5 Aug 
Mon 1.8

Puriri 1 Planting Day

Tues 2.8

 Inter School Hockey (Yr 5 & 6)
Weds 3.8 PTA Meeting 6:00pm in the staffroom (pizza & drinks provided)

Wed 3.8

 Kylie Ryan "Primary & Tweens" here at SBS 7:00pm – 9:00pm (see below)
Week 3:  8 – 12 Aug
Tues 9.8

Year 3 Whitebait Connection-Hall 9.30am

Weds 10.8

Wacky Walking Wednesday Mufti Day (can for food banks)

Weds 10.8 Year 5 Camp Parent Meeting 5:00pm Nik 1

Fri 12.8

Full School Assembly (2pm in the Hall)

Class: Kau 1
Week 4: 15 – 19 Aug
Tues 16.8

 Year 5/6 Trip to Re:Sort Centre
Weds 17.8 School Cross Country
Weds 17.8 Kylie Ryan "Primary & Tweens" at Matakana 7:00pm – 9:00pm (repeat of the session here for anyone who missed the first)
Welcome to our new students – we hope you enjoy your time at our school!
Zoe C, Eva DR, Zoe DR, Tane FM, Georgia H
SBS PTA – meeting for those interested
We are really keen to get our PTA up and running again, and to start getting a bit of fun back into our lives! Speaking of which, we have pencilled in a a date for the world famous SBS Quiz Night! 18 November!
We want to change the format of the PTA a little this year – rather than "the PTA" taking on everything, to run a more "events based" structure. We realise that some people prefer to help at events during the day, and some prefer to work towards one big event, (like the Quiz Night, or disco) in the evenings. We would need a Chairperson, secretary and finance person to oversee as a central core of support.
Let's just throw round some ideas, and see what we can come up with!
Because we know quite a few people will attend the Kylie Ryan evening, we thought we would tag the PTA onto this, and meet at 6:00pm next Weds 3 August in the staff room. (Pizza & drinks provided)
If you are unable to attend at this time, but are keen to be involved, please email kramel@snellsbeach.school.nz.
Rātā 1 – our new New Entrant class & Welcome to Sally Jack
Our Junior School has now expanded to 8 classes!
Our new NE classroom (Rātā 1) has begun for Term 3 – yippee!!. The students and teachers are super excited about the year ahead. If you happen to be discarding old play equipment we are currently seeking imaginative play gear e.g. market stall/ shop, theatre stand, tools, playdough equipment, etc. All donations would be gratefully received.
Also, please start saving your recyclables for our making box in Rātā 1. There will be a box outside our room every morning you can put your recycled boxes, card, packaging, cardboard rolls, buttons, envelopes, wool and any good quality bits and bobs we can turn into 'masterpieces'.
We are delighted to welcome Sally Jack to join our teaching team, and wish her all the best.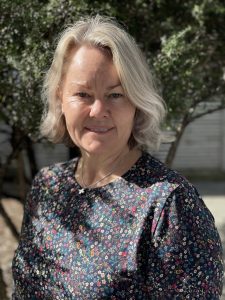 Junior School 100 Day Party
The Junior School had a successful 100 Day Party on Wednesday to celebrate becoming 100 days smarter, as well as learning all about numbers 1-100. Nothing like combining maths and a good time. Many thanks to parents and whanau who contributed to a lovely shared lunch.
New School Fale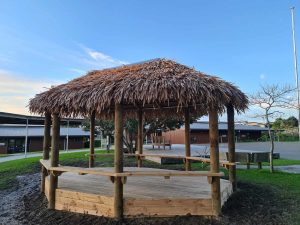 All schools in New Zealand were given a one off sum for "School Improvement" which had to be tagged to infrastructure or property. With this we have trebled the size of our Senior Playground, and built our new Play Based Learning area, with sand and water play. With our last remaining funds we wanted to create another shady space the kids could use during break times, and whole classes could also enjoy, particularly in the hot summer months. We are ecstatic with our new fale – the Brustics team worked tirelessly in the terrible weather over the holidays, and the finishing is great. Unfortunately, the surrounding area is a bit of a mud bath right now, but we will be remedying this shortly (when it dries out a bit) with planting and bark.
Play Based Learning Supplies needed please
Our Junior Classes would love the following supplies for Play Based Learning:
boxes (big and small)
egg cartons / trays
fabric scraps
buttons
beads
ribbons
Kylie Ryan – the Tough Stuff for Primary & Tweens.
Weds 3 August (next week). No charge. Snells Beach School. 7:00pm – 9:00pm.
Adults only – no students please. If you require childcare here at school to attend, please email kramel@snellsbeach.school.nz.
As a parent, if you come to one thing, come to this. Never assume that your kids are too young to ask those tough questions – it's the littlies that are more likely to, they have no filter.
Kylie Ryan from "The Tough Stuff" will be presenting an evening that we thoroughly recommend. Kylie will provide you with some practical ideas around handling those "tough" questions all kids ask, as well as some pointers for keeping your child safe. She uses plenty of humour, and information is passed on in a way to which you can apply your own religious, cultural or family beliefs. Let's be honest – these questions are some of the toughest bits of parenting!
Kylie Ryan, the founder of The Tough Stuff has over 20 years clinical and training experience in mental health and sexual health – with specific expertise in prevention of suicide, sexual violence, and drug and alcohol related harm. She has developed over 20 primary prevention programmes across the spectrum of mental health and sexual health issues, and trained over 30000 young people and 15000 professionals.
This event is brought to you by the Mahurangi Kāhui Ako.
SBS Board Elections
In line with school's across NZ, our school is undertaking a parent election for our School Board. This process has started with the issuing of nomination papers to our caregiver community.
We have employed CES to undertake the election process on our behalf. This year with legislative change, our nomination form and full instruction on how to place your nomination into our own School's Election website will be emailed to you if we have your email address in our database or you will receive it by post if we don't have your email in our database.
Nomination papers will also be available at the school office. The school will send those on to CES for processing upon receipt from candidates.
Nominations close on Wednesday 3rd August at 12 noon. Election day is Wednesday 7th September. We look forward to your participation in this process.
Snells Beach Kindy Comedy Night
Snells Beach Kindergarten Comedy Night is taking place on Saturday 20th August at the Salty Dog Inn, see our school Facebook page for more information and support our local kindergarten!
English and Maths Tutoring
Does your child require further support, over and above what can be offered at school?
Would your child benefit from bespoke and nurturing learning sessions from a highly experienced teacher designed to accelerate learning and boost confidence? We would love to help. We are a team of dedicated teachers, specialising in English and Maths support, for primary, intermediate and college students. Visit www.boostyourlearning.co.nz for more information or contact Jenny 021 223 3349 to book a free consultation.
Nathan Wallis "The Teen Brain"
7:30pm – 9:30pm at Mahurangi College. Mon 22 August (T3, Wk 5) Book tickets through event finder. $30.
Totally Psyched – Mental Healthcare for Families, Teens & Kids
Totally Psyched are a compassionate team of professional, highly qualified psychologists, doctors and therapists who are dedicated to supporting your child every step of the way. Located in Warkworth. For a detail list of services, please check out our school Facebook page.
Speech Language Therapy Sessions Here At School
One of our parents, 
Kendall
 Stewart is a Speech Language Therapist.
She is running private therapy sessions every Wednesday at school.
If you have any concerns regarding your child's pronunciation, language use, comprehension or stuttering then give her a call, text or email.
Together you can discuss whether Speech Therapy could help.
0275888879

Print or Save this Post