Tēnā Koutou, Talofa Lava, Malo e Lelei, Namaste, Ni sa bula, Noaia'e mauri, Fakalofa lahi atu, Kia Orana, Ni Hao, An Nyung Ha Sai Yo, Nay Ho, Hej, Hallo, Sawat Dee, Cześć, Goeie Dag, សួស្តី, Здравствуйте, hola. Greetings to our school families.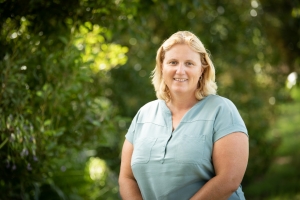 I have spent quite a bit of time over the past few weeks meeting with the Ministry of Education regarding plans to extend and build here at SBS to meet the growing needs of our community. Growth is all around us, and evident in the many new sub-divisions springing up, as well as conversion to permanent homes of some of the old holiday homes in the area. The Board have fought hard to keep an environment here at school that is consistent both with what we already have, and with the needs of our community. I have been delighted that the MOE have responded to the Board, and initial drafts for new builds look to be a great fit. When we have final confirmation, I look forward to sharing the development plans with you.
Thanks to everyone who came in to support school events this week. It's pretty hard not to get a bit emotional watching everyone cheer kids home during the Cross Country.
Fingers crossed for a dry-ish weekend!
Ngā mihi,
Kathryn Ramel
Principal
School Diary
Week 6: 29 Aug – 2 Sept
Tues 30.8

Inter School Cross Country,

Whitebait Connection Year 3 Field Trip

Weds  31.8

Kylie Ryan Tweens & Teens at Mahurangi College 7pm – 9pm,

Speech Finals Year 4-6 (Middle Block)
Week 7: 5 Sept – 9 Sept
Tues 6.9

 Whitebait Connection Year 3 -Field Trip Save Day

Weds 7.9

Year 5 Camp

Thurs 8.9

Year 5 Camp

Fri 9.9

Year 5 Camp,

Full School Assembly (2pm in the hall) Class: Pur 2
Week 8: 12 Sept – 16 Sept 
Tues 13.9

 Year 3 Whitebait Connection 9.30am Hall

Wed 14.9

Values assembly 12.15

Thu 15.9

EPRO8 Engineering Challenge Albany 9.30-12.30 Y5/6
Welcome to our new students – we hope you enjoy your time at our school!
Bowie P, Braden G, David T, Daniel T and a big welcome back to Sam M & James M
Board Elections – have your say!
We have 8 candidates standing for 5 spots on the Snells Beach Board – 2 members from the current Board re-standing, and 6 new candidates. We forwarded the blurbs for each candidate this week. Please take 5mins to read and have your say. Providing we have your email address in our system (ie: you receive emails from the school office), you will have been sent the details for online voting with the email heading "CES School Board Voting is Underway – Vote now". This provides a voting link for you only – other parents need to use their own email (this stops people voting more than once). If your email is not in our system you will have been posted hard copy voting forms.
If you have difficulties logging into the voting site or casting an online vote, please contact electionz.com weekdays between 8.30am-5pm on (03) 377 3530 or email iro@electionz.com.
Huge thanks to our Board Members not Re-Standing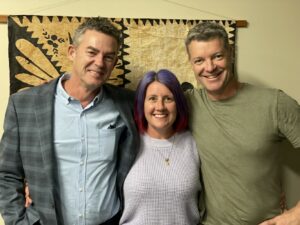 It was the last meeting for the current Board this week, and a sad night as we said goodbye and thank you to 3 long-standing Board Members. Jarrod Dove (Board Chair), Brett Howlett and Kylie Steffener have been stalwarts of the Board over many years, putting in hours of work behind the scenes. They have really exemplified how a Board should operate – constantly trying to bridge any gaps between overarching policy which schools must follow, and finding the fit that is right for our community. They have been committed to seeing the school grow and evolve as the community has. We will formally thank them at the end of year Prize Giving, but we didn't want them to walk away mid year without acknowledging them. And we are sure that Jarrod's catch cry "Its for the children" will still be heard at this year's Quiz Night!
The World Famous SBS PTA Quiz Night!
It's baaaaaack! Our PTA are working hard on preparations for our SBS PTA Quiz Night – Friday 18th November. Bookings will be available shortly, so start thinking about who your smart friends are that you need on your table! :-). As always there will be a prize for the best dressed table (will anyone ever outdo the Vikings or the Old Folks Home??). 
Want to promote your business?? The PTA are looking for major auction items, and also silent auctions to both fundraise to support our kids, and help local businesses get their name out there. Let us know if you are keen – email PTA@snellsbeach.school.nz
Junior Poetry Recital 
Speaking in front of an audience is scary…..but it is such a fantastic skill to have. We believe in supporting kids to grow in confidence and believe in themselves, starting with the Year 0 – 3's reciting their poems. We are proud of everyone who overcame their fears, firstly in class, and then at this mornings Finals. The judges found it really challenging with a high level of presentation! Congratulations go to:
Year 0/1: 1st Meg V D M, 2nd Mieke V D M, 3rd Marlee J, Merit: Fionnula B, Isla A, Pax S, Florence S, Luca H
Year 2: 1st Stanley M, 2nd Daniel M, 3rd Meila C-S, Merit: JJ C, Jacob P, Liam K
Year 3: 1st Ireland V D, 2nd Matilda VDM, 3rd Olive G Merit: Skylar S, Ragnar C, Nina H, Kenzi S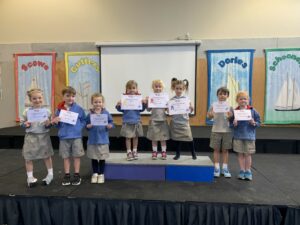 Cross Country 2022
We all breathed a sigh of relief when we woke up to blue skies on Tuesday morning – scheduling and re-scheduling events is a stressful business. We are super proud of everyone who gave it their best and braved possibly our muddiest ever Cross Country course! We are still extracting shoes from some sections of the course (our Caretaker just walked in with a pair this morning) but no child was left behind :-). Thank you to all parents and whanau who came along to support everyone and help make it a special day. Huge congratulations to our Top 5 running at every level who progress to the Inter School Event next Tuesday at the Warkworth Showgrounds:
Year 0/1 Girls: 1st Marlee J, 2nd Grace L, 3rd Coco W, 4th Matilda G, 5th Millie J
Year 0/1 Boys: 1st Pax S, 2nd Ari F, 3rd Luca H, 4th Tomas B, 5th Bryn H
Year 2 Girls: 1st Ruby E, 2nd Harper McL, 3rd Maggie H, 4th Alaylah W, 5th Sophie MacG
Year 2 Boys: 1st Camden H, 2nd Stanley M, 3rd Daniel M, 4th Archie S, 5th Alex M
Year 3 Girls: 1st Caitlyn W, 2nd Nina H, 3rd Zoe D-R, 4th Riley E, 5th Sophie C
Year 3 Boys: 1st Harry B, 2nd Oscar B, 3rd Ryder W, 4th Harry K, 5th Rome McM
Year 4 Girls: 1st Elvie S, 2nd Gwen P-B, 3rd Summah A, 4th Kiki E, 5th Ciera M
Year 4 Boys: 1st Josh B, 2nd Heath P, 3rd Johnny C, 4th Jack H, 5th= Marley B & Fergus H
Year 5 Girls: 1st Sakia P, 2nd Amelia C, 3rd Anantaya J, 4th Eva D-R, 5th Xanthe W
Year 5 Boys: 1st Levi P, 2nd Ollie E, 3rd Jake L, 4th Kyden M, 5th Dre K
Year 6 Girls: 1st = Zoey B & Milly C, 3rd Ashley R, 4th Korbyn B, 5th Autumn H
Year 6 Boys: 1st Jayden P, 2nd Hunter S, 3rd Brett R, 4th Kobe B, 5th Lennox N
Kylie Ryan – Tough Conversations Year 7 – 13
Kylie is giving a free parents only presentation for those parenting teens. Next Wednesday night, 7pm at Mahurangi College.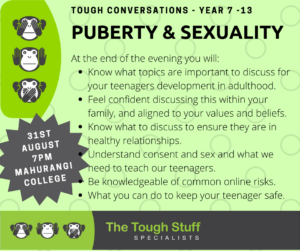 Mahurangi Junior Mixed Touch Module
Starts: THURSDAY 20th OCTOBER at the Mahurangi Rugby Club Grounds
14 Weeks: Thursday 20 October – Thursday 15 December, recommencing Thursday 9 February – Thursday 9 March
JUNIOR MIXED Year 1 & 2 Year 3 & 4 Year 5 & 6
INTERMEDIATE MIXED Year 7 & 8 and Year 9 & 10
MIXED
· Registration email touchrugby@mahurangirugbyclub.co.nz
· Registrations CLOSE Thursday 16th September
Individual and team registrations welcome
See our Facebook page Mahu Touch
Senior Registrations: please contact bkdesign@paradise.net.nz
Snells Beach Garden Circle annual Flower Show
The Snells Beach Garden Circle are staging the annual Flower Show on Saturday 3rd September this year children are welcome to participate.
Viewing to the public is from 1.00pm 3.30pm.
Children's flower arranging competition for 3rd September Show:
5 years and under An arrangement in a saucer.
6- 8 years olds An arrangement in a saucer
9-12 years olds A design in an ice cream container
Important
Write the child's name underneath the plate . Bring the entries to the Mahurangi Community
Centre on Friday 2nd September between 3 – 4pm, otherwise at 9- 9.30am show day 3rd
September.
Could you please pick up your own entries 3 -3.45 pm on Show day 3rd September.
Thanking you
Barbara Carpenter
Show Convenor phone 4255371
Totally Psyched – Mental Healthcare for Families, Teens & Kids
Totally Psyched are a compassionate team of professional, highly qualified psychologists, doctors and therapists who are dedicated to supporting your child every step of the way. Located in Warkworth. For a detail list of services, please check out our school Facebook page.
Speech Language Therapy Sessions Here At School
One of our parents, 
Kendall
 Stewart is a Speech Language Therapist.
She is running private therapy sessions every Wednesday at school.
If you have any concerns regarding your child's pronunciation, language use, comprehension or stuttering then give her a call, text or email.
Together you can discuss whether Speech Therapy could help.
0275888879

Print or Save this Post