The Nukes – Aotearoa's/NZ's most beloved and enduring 'original ukulele trio'.
On the road again in the topsy-turvy year that is 2020, bringing joy and harmony to all they encounter.
www.facebook.com/events/234448820901698
Up the way from West Auckland  to Warkworth on Sunday November 1st in association with Creative Communities and local ukulele group Jade River Ukes  ..The Nukes will be running a couple of workshop sessions during the afternoon …Session one ( free ) from 1.30 pm an opportunity for all who would like to play music to get together and meet especially those who have an interest but have yet to take the step into playing music / writing songs …answering questions , guiding and recommending …Session two ( free ) 2.15 pm school aged workshop session limited to 30-35  participants – performance and ukulele / singing ….Session three paid workshop session 3pm for all ukulele players and performers limited to 30-35  participants all ages and levels catered for ….. both the free schools session and paid public session will provide performance opportunities with the Nukes in the concert that follows ..4.30 pm Concert public show with the Nukes .
Tickets to the 3pm workshop and 4.30 pm show are available online with eventfinda or in person at the Mahurangi Matters office 17 Neville St
 https://www.eventfinda.co.nz/2020/the-nukes-at-warkworth-town-hall/auckland/warkworth/tickets
3pm Workshop: informative and practical with something for everyone as participants learn how to play and perform some of the new songs in the band's repertoire. A little bit of experience will be of value, though even beginners should have some tips to take away with them.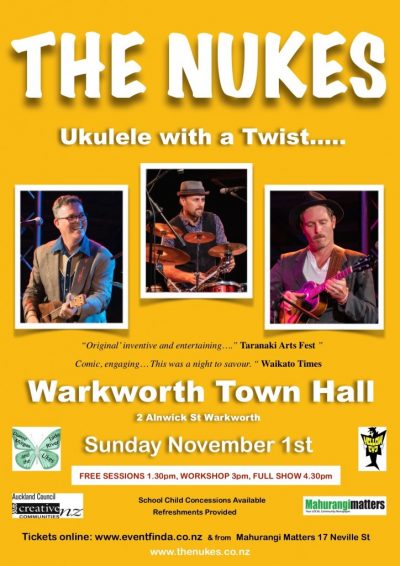 Print or Save this Post