Tēnā Koutou, Talofa Lava, Malo e Lelei, Namaste, Ni sa bula, Noaia'e mauri, Fakalofa lahi atu, Kia Orana, Ni Hao, An Nyung Ha Sai Yo, Nay Ho, Hej, Hallo, Sawat Dee, Cześć, Goeie Dag, សួស្តី, Здравствуйте. Greetings to our school families.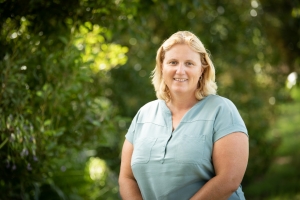 It's been a busy few weeks, with more to come, which you can read about below. Make sure you keep your eye on the "Key Dates", there is lots to be prepared for!
We were delighted last week to be given the go ahead for another two classrooms (Rātā 1 & 2), which will be built and finished (on time I am assured this time!) over the Christmas holidays. This will free up our amazing teaching space next to the Library where Rātā 1 are currently residing, to be used for our specialist groups such as ESOL and the Enrichment Programmes. With 15 current classrooms, and more to come next year, managing growth continues to be a major focus for us here at school. We have also begun plans for a major landscaping development around the Junior Area to better settle these classes in as part of our school, and support our Play Based Learning philosophy. Exciting times!
Nga mihi nui,
Kathryn Ramel
Principal
Welcome to our new students – we hope you enjoy your time at our school
Freddie M, Sosaia H, Dhyey P, Dallas B
Key Dates
Week 4: 10 Aug – 14 Aug
Wed 12.8

   

Mahurangi College Open Day (for parents only)

Thurs 13.8

     

Senior Planting Day – Scandretts

Thurs 13.8     Trees for Survival – Puriri 1

Fri 14.8

       

Pizza Lunch

Fri 14.8.    MMK Raffle Draw ($100 voucher – Yr 6 camp fundraiser)
Week 5:  17 Aug – 21 Aug
Wed 19.8

Year 3 Field Trip to Warkworth-The Whitebait Connection

Fri 21.8

Pizza Day

Fri 21.8 Freaky Friday Mufti Day – Yr 6 Camp Fundraiser

Fri 21.8 Whole School Assembly 2:10pm (Kahi 2 presenting)
Week 6: 24 Aug – 28 Aug
Tues 25.8

Speech Semi Finals (Year 4 – 6)

Wed 26.8

Year 3 Field Trip to Snells Beach Stream-The Whitebait Connection

Fri 28.8

Pizza Lunch
Teacher Only Day – 31 August
Under the most recent Primary Teachers Collective Agreement, schools have been allocated 3 days per year to be used as Teacher Only Days. The schools in our area have tried, as best we can, to align these days to try to reduce the impact on parents. Our school, along with the other primaries in the area, will be having a Teacher Only Day on Monday 31 August. The school will be closed for instruction, however Kelly Club will be running a school holiday programme "Spring Day" for parents requiring supervision. Contact details are on our website or see https://www.kellyclub.co.nz/snells-beach
PTA Quiz Night 2020 – 25 September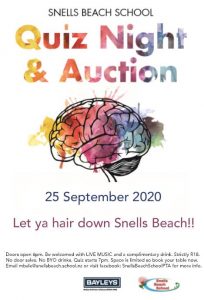 Our annual Quiz Night has been re-scheduled for Friday 25 September – the last night of this term. If you are a local business who would like to donate a silent auction item, or live auction item to support the school, and promote your business, contact Marissa Bale either here at school 09 425 6058, or email mbale@snellsbeach.school.nz
Tables are selling fast! To book a table email Marissa at mbale@snellsbeach.school.nz
The Great SBS Cross Country 2020
Huge thanks to all the parents, whanau and supporters who popped down last week to cheer our runners on at our SBS Cross Country. There are always so many memories made at this special event – watching our top runners making it look easy as they glide past, supporting those who find it a challenge, and watching everyone experiencing success as they are cheered home.
Girls Yr 0/1: 1st Ireland VD, 2nd Nina H, 3rd Aria N, 4th Sophie C, 5th Avana R, 6th Ayla N, 7th Zoe C, 8th Agnes G, 9th Winsome B, 10th Eden O'R
Boys Yr 0/1: 1st Harry B, 2nd Zaden R, 3rd Eli B, 4th Jax D, 5th Georgy Y, 6th Charlie W, 7th Camden H, 8th Tiko B, 9th Stanley M, 10th Archie S
Girls Yr 2: 1st Gwendolyn P-B , 2nd Fern Y, 3rd Kiki E, 4th Summah A, 5th Ciera M, 6th Paeton K-H, 7th Rose E, 8th Layla S, Neauti M 9th, Freya W 10th
Boys Yr 2: 1st Arran E, 2nd Josh B, 3rd Hardus G, 4th Johnny C, 5th Fergus H, 6th Heath P, 7th Daniel W, 8th Beau K, 9th Macdara B, 10th Jackson S
Girls Yr 3: 1st Saskia P, 2nd Zailie R, 3rd Amelia C, 4th Anantaya J, 5th Sequoia L-M, 6th Sofia B, 7th Marvi B, 8th  Milly H, 9th Lucy T,  10th Sylvie M
Boys Yr 3: 1st Levi P, 2nd Ollie E, 3rd Judah D, 4th Kyden M, 5th Jake L, 6th Daniel S, 7th Cam D, 8th Ihaia C, 9th Lucas M, 10th Jacob P
Girls Yr 4: 1st Milly C, 2nd Grace K, 3rd Faith K, 4th Zoey B, 5th Eva M, 6th Zhia D, 7th Esther W, 8th Korbyn B, 9th Isabelle B,  10th Laticia L
Boys Yr 4: 1st Hunter S, 2nd Braxton M, 3rd Wynand G, 4th Jayden P, 5th James M, 6th Maximus M-B, 7th Max S, 8th Lachie R-S, 9th David W,  10th Kayden C
Girls Yr 5: 1st Sienna S, 2nd Amalia P, 3rd Emma R, 4th Charlie E, 5th Dove E, 6th Georgia C, 7th Nevaeh M, 8th Izzy S, 9th Elsa S,  10th= Kaylee G & Natasha S
Boys Yr 5: 1st Cade McG, 2nd Ollie P-B, 3rd Liam F, 4th Connor B, 5th Dillon G, 6th Loki D, 7th Adrian D, 8th Francois C, 9th Ronan F, 10th Charlie B
Girls Yr 6: 1st Arabella P, 2nd Paige K, 3rd Kate L, 4th Selena C, 5th Ayvah C, 6th Bethany H, 7th Maia McG, 8th Brylee B, 9th Leigh T, 10th Jessica  V
Boys Yr 6: 1st Rai T, 2nd Michael A, 3rd Callum W, 4th Phineas P-B, 5th Micah S, 6th Royston B, 7th Blake T, 8th Sol W, 9th Hux B, 10th Nate P
Inter School Cross Country 2020
Our top runners headed off to the Showgrounds this week for the Inter School Cross Country. This takes a huge amount of organisation, with over 60 competitors travelling to the event. Thanks to Mr Morley, Mr Port & Mrs Holland for travelling with, and supporting the team, and to all the parents who popped down on the day as well. SBS place-getters were:
Girls Yr 1: Ireland V-D 2nd
Boys Year 1: Zaden R 7th
Girls Yr 2: Kiki E 3rd, Ciera M 10th
Boys Yr 2: Josh B 3rd, Johnny C 5th
Girls Yr 3: Zailie R 9th
Boys Yr 3: Levi P 2nd, Judah D 3rd, Ollie E 4th, Kyden M 6th
Girls Yr 4: Milly C 8th
Boys Yr 4: Hunter S 1st, Wynand G 8th, Braxton M 9th
Girls Yr 5: Sienna S 2nd
Boys Yr 5: Cade McG 1st, Liam F 3rd, Connor B 4th
Boys Yr 6: Rai T 2nd, Phineas P-B 8th, Alex H 9th
SBS Mini Gala 2020
We were blown away by the support shown for our Mini Gala last week. This is an important event for us – Senior students plan businesses, and learn that you need to work to earn the money for things……not just ask for the money. Our Year 5's work alongside the Year 6's on this, knowing that they, in turn, will be supported when they go to camp. And our whole community support these kids to travel to Tongariro – one of the highlights of being a "Senior". There are a few expenses to cater for, but we have raised at least $5,600 to help get our Year 6 students to Camp Tongariro! That's about $127 per child! Thanks everyone!
Inter School Hockey 
Our Year 5 and 6 students headed off to the Hockey Zone Day last week, with the Year 6's winning the event overall! Thanks to Mr Port for supporting the teams on the day – here is his match report:
The year 5 team had two draws and 1 loss. They played with great camaraderie and team work, being singled out by one of the referees as a team with excellent sportsmanship.
The year 6 team won each of their 3 pool games, only letting 1 goal in the process while scoring 16. They then beat Kaipara 4-0 in the semi final, and went on to win the final against Leigh School 4-0. Again, the sportsmanship of this team was excellent. Special mention to Leigh and Milly from this team also, as they had to play every minute of every game, giving it their best all the way throughout.
Speech Language Therapy Sessions Here At School
One of our school parents, Kendall Stewart is a speech language therapist. Give her a call, text or email to discuss your child and whether Speech Therapy could help them. 0275888879  kendall.stewart@me.com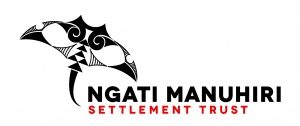 Print or Save this Post