Tēnā Koutou, Talofa Lava, Malo e Lelei, Namaste, Ni sa bula, Noaia'e mauri, Fakalofa lahi atu, Kia Orana, Ni Hao, An Nyung Ha Sai Yo, Nay Ho, Hej, Hallo, Sawat Dee, Cześć, Goeie Dag, សួស្តី. Greetings to our school families.
Welcome to 2020! Our SBS family has continued to grow – last year we started with just under 250 students, this year we are at 300! The staff have been busy over the past few weeks, preparing for this year, and things start with a rush with swimming for the Junior and Senior schools kicking off next week.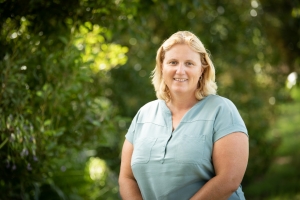 Schools are busy places, and it is really important to stay in the loop. We are trying to reduce our use of paper for notices etc, and are encouraging as many people as possible to connect with us online. We recommend all parents and whanau do the following:
ensure your correct email is in our school database (if this was not emailed to you, you are not there)
download our school app. Simply download the "Skool Loop" app from either App Store or Play Store and select "Snells Beach School" from the drop down box to receive instant notifications and reminders.
facebookers, follow us on Facebook. Check you have our official site, with an aerial video of the school as our banner, rather than the generically produced one
Nga mihi nui,
Kathryn Ramel
Principal
Weekly Diary
Teacher Only Day this Friday 7 February – Kelly Club Running a Holiday programme for those who require it
Week 2: 10 10 Feb – 14 Feb
Tues 11.2 Senior (only) School Swimming
Weds 12.2 Junior & Senior School Swimming,  Year 5 Camp Meeting (5pm – Nikau 1)
Thurs 13.2 Junior & Senior School Swimming  – High Tide  11:23am
Fri 14.2 Pizza Lunch Day, Full School Assembly 2:10pm, Valentine's Day
Week 3: 17 Feb – 21 Feb
Tues 18.2

No Staff Meeting

Thurs 20.2

Beach Meet & Greet (5:55pm High Tide) 5:30pm start Info home Monday

Fri 21.2

 

Pizza Lunch Day
Week 4: 24 Feb – 28 Feb
Tues 25.2

Junior & Senior School 

Swimming  – High Tide  9:37am, 

School Council Speeches, 1:30pm in the Hall

Weds 26.2

Junior & Senior School 

Swimming  – High Tide  10:15am

Thurs 27.2 Junior & Senior School 

Swimming  – High Tide  10:52am

Fri 28.2

Junior & Senior School 

Swimming  – High Tide  11.29am, 

Pizza Lunch Day, 

Whole School Assembly – School Council Announced 2:10pm
Welcome to our new students – we hope you enjoy your time at our school!
Beau B, Auberon B, Harry B, Billie C, Zoe C, Iyla J, Anantaya J, Henry M-T, Eva M, Aria, Devonte P, Tayler R, Avana R, Indiana S, Joanne S, Beau S, Izzy S, Elvie S, Kenzi S, Matilda van der M, Ryder W, Maxon Y.
Introducing our new teachers:
Our roll has continued to grow, and with that we have had new teachers join our team. We are delighted to welcome:
Rachel Waterhouse Rachel is the new Team Leader of our Junior School, and is teaching a Year 1 class in Rimu 1. She joins us after teaching at schools on the North Shore, and most recently, a leadership position at Leigh School. Rachel brings with her a passion for visual arts, sustainability and gardening, and has already been told by one of our students that she wants her to "be her teacher forever!"
Tracey Hardey Tracey has lived in the wider area for a number of years, commuting down to Long Bay Primary, and has had association with our school as an Aunty of one of our school families. She lives on a lifestyle block with 35
named sheep, 23 chickens, 2 dogs and a cat. She is teaching a Year 1 class in Rimu 2.
Deborah Eves Deborah is a long time local, delighted to be returning to teach in the area. She has taught in a number of schools, most recently in Warkworth for a term at the end of last year, and Matata. Parents may remember her teaching Nik 2 last year when Mrs Henchie had to briefly return to South Africa. Deborah's class reflects her passion for design and creativity, and she is teaching Year 4's in Puriri 1.
IMPORTANT NOTICE: new crossing on Dawson Road. STARTING MONDAY.
The current pedestrian crossing on Dawson Road is situated quite away from the school – this was where the footpath used to end. We now have a number of students living in the Mahurangi Heights sub-division over the road, and parents who choose to park there during pick up and drop off times, and have noticed a number of children running straight over the road, instead of coming down to the crossing. We have been working with Auckland Transport, and it is likely a new crossing will be built closer to the school in the coming months. We require a quicker solution however, so today our senior Road Patrol Monitors have been training with Constable Watts to establish a Kea Crossing outside the school. This is a temporary crossing, run daily by our patrollers, and as always, supervised by a teacher. For more information, see here: https://www.nzta.govt.nz/safety/safety-for-children/kea-crossings/
Supervised crossing times are 8:30am – 8:50am, and 3:00pm – 3:20pm daily. If your child is crossing Dawson Road outside of these times, they must use the existing crossing. PLEASE, IF YOU ARE CROSSING THE ROAD WITH YOUR CHILD, USE THE KEA CROSSING. IF YOU RUN ACROSS WITH THEM, THEY WILL RUN ACROSS WHEN YOU ARE NOT THERE.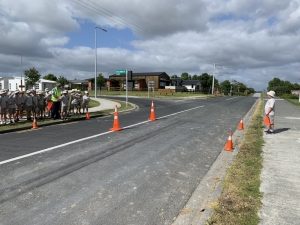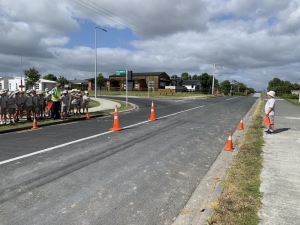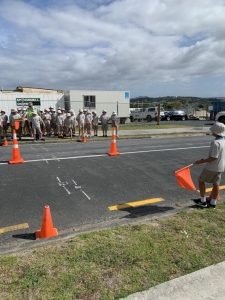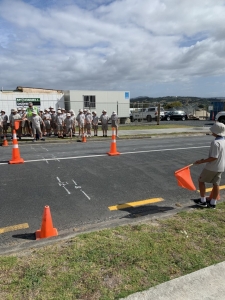 Senior and Junior School Swimming
Year 1 and 2, and Year 5 & 6 students head off next week to start their swim sessions (Year 3 & 4 students have lessons with instructors later in the year). We do not have a pool, and instead run standard water confidence and safety sessions at Snells Beach. Due to the tidal nature of the beach, lessons tend to be in clusters, fortnightly, when the tide times are suitable. 
SWIMMING DATES for Junior School
| | | | |
| --- | --- | --- | --- |
| Date | Leaving Time | High Tide | Time Due Back |
| Week 2 Wed 12th Feb | 9.15 | 10.30 | 11.30 |
| Week 2 Thurs  13th Feb | 10.15 | 11.20 | 12.20 |
| Week 4 Tues 25th Feb | 9:00 | 9.30 | 10.30 |
| Week  4 Wed 26th  Feb | 9.00 | 10.15 | 11.15 |
| Week 4 Thurs 27th  Feb | 9.30 | 10:50 | 11.50 |
| Week 6 Thurs 12th Mar | 9.00 | 10.20 | 11.20 |
| Week 6 Friday 13th  Mar | 10.00 | 11.14 | 12.15 |
| Week 8 Thurs 26th  March | 9.00 | 10.00 | 11.00 |
| Week 8 Friday 27th March | 9.15 | 10.30 | 11.30 |
SWIMMING DATES for Senior School (departure times similar to above)
Tuesday 11 February

Wednesday 12 February
Thursday 13 February
Tuesday 25 February
Wednesday 26 February
Friday 28 February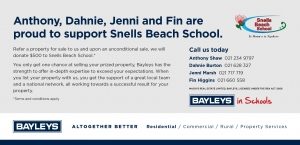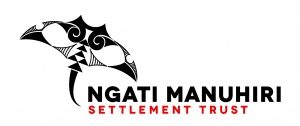 Print or Save this Post