Tēnā Koutou, Talofa Lava, Malo e Lelei, Namaste, Ni sa bula, Noaia'e mauri, Fakalofa lahi atu, Kia Orana, Ni Hao, An Nyung Ha Sai Yo, Nay Ho, Hej, Hallo, Sawat Dee. Greetings to our school families.
Weekly Diary
Week 8: 9 Sept – 13 Sept
Weds 11.9

Year 3 Mahurangi River Visit- The Whitebait Connection(am only)

Thurs 12.9

Year 4-6 Speech Finals, 1:30pm in the hall

Fri 13.9

Whole School Assembly, 2:15pm –

Pūriri 1
Week 9: 16 Sept – 20 Sept
Tues 17.9

ICAS English (Hall out block 1)

Wed 18.9

Year 3 Field Trip Save Day (am only)

Thurs 19.9

ICAS Maths  (Hall out block 1)

Fri 20.9 Hockey & Netball Sports Assembly 2:00pm in the hall
Fri 20.9 PTA Disco 6:00pm – 7:30pm (details below)
Week 10: 23 Sept – 27 Sept
Fri 27.9 Whole School Assembly 2:10pm in the hall (all welcome)
School holidays Saturday 28 September – Sunday 13 October
Welcome to our new students – we hope you enjoy your time at our school!
Matias De Sousa, Memphis De Sousa, Phoenix McGoram, Anthony Eyre, Savanah Noble, Zilke Van Der Merwe, Eli Morris
Measles in Auckland Schools
 
As you will be aware, there is currently an outbreak of Measles, which is being managed in our area by the Auckland Regional Public Health Service.
According to the ARPHS, the best way to prevent getting measles is to have the MMR (Measles, Mumps, Rubella) vaccination. It is not too late to get at least one vaccination. This is free to anyone under 50 years old – although there may be a small administration fee at your GP.
As requested, recently we have been updating our immunisation register. Please, if the immunisation status of your child changes, let the office know.
If there is a measles case at our school, unvaccinated children will be asked to stay at home, as per the Auckland Regional Public Health Service Guidelines.
Any questions please feel free to contact us or visit the Auckland Regional Public Health Service www.arphs.health.nz
Ten Year Bike Track
Much of our fundraising over the past few years has been working towards providing something special for our kids to enjoy, and mark our 10 Year Celebrations. We are delighted to announce that next term we will be starting construction on a bike track around the perimeter of our field. Our kids love using their "wheels" at lunchtime, and we would like to create more opportunities for kids to use their bikes. The track will be sealed for use by scooters and skateboards also. Exciting!! We will have to wait for our field to dry out enough to allow diggers access…….watch this space!
A huge thank you to Masons for supporting the school to achieve this as well as:
NZ Community Trust
Pub Charity
Comprehensive Care Primary Health Organisation
Blue Sky Community Trust
Mahurangi Community Charitable Society
And also, the Lions Warkworth have committed to helping with landscaping the area around the 
bike
track
 including use of light machinery.

Puriri 1 and 2 Maritime Museum Trip
Pūriri 1 and 2 enjoyed a fantastic day at the Maritime Museum this week as part of their inquiry into our maritime history.  A highlight was a trip up the Waitemata harbour on the replica scow, the Ted Ashby.  Students also enjoyed exploring the museum with its wide array of of models and replica craft of all sizes and designs, as well as learning about voyaging across the Pacific, navigation, shipwrecks, what ship life was like for those migrating from the UK, and much more.  We also wandered along to the Wynyard Quarter and the Team New Zealand base.  Huge thanks to all the parents who transported and supervised our students on the day;  we are extremely grateful. And thank you to Mrs Williamson and Mr Chapman for their organisation and effort in making this happen.
PTA Disco – Fluoro Party!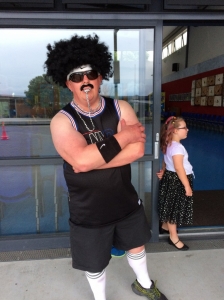 Our PTA are organising a school disco FRIDAY 20 September 6:00pm – 7:30pm in the hall.
 ONLY current SBS students & pre-school siblings will be admitted. PLEASE NO older siblings or friends. Parents & Caregivers welcome (and encouraged for Years 0 – 2).
Students MUST be picked up from the hall at 7:30pm, they will not be released to walk up to the carpark alone. 
Sausage sizzle, baking & other snacks. GOLD COIN ENTRY PER CHILD
Announcing the return of Mr Morley's twin brother, internationally famous, DJ Triple M (Mere Male Morley)!
Hockey and Netball Sports Assembly
Our SBS Saturday Morning Hockey and Netball Teams will be hosting their annual Sports Assembly on Friday 20 September at 2:00pm in the hall. We welcome all to attend.
Mahurangi East Tennis Club
Our local Tennis Club are offering free tennis lessons for 6 – 12 Yr olds. 3 week course, starting Thursday 12th September from 3:30 – 4:30pm at the Mahurangi East Tennis Club (next to the Library). To register text Hugo 022 311 3216 or email hugo@tennismonsters.com. Limited spaces, maximum 20 kids.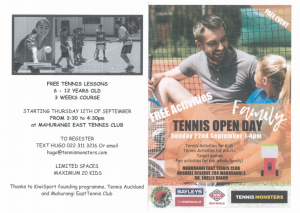 Print or Save this Post