Tena Koutou, Talofa Lava, Malo e Lelei, Namaste, Ni sa bula, Noaia'e mauri, Fakalofa lahi atu, Kia Orana, Ni Hao, An Nyung Ha Sai Yo, Nay Ho, Hej, Hallo, Sawat Dee. Greetings to our school families.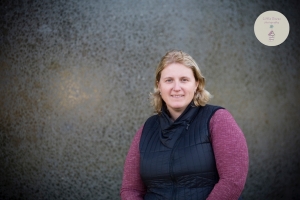 Thanks to all parents and whanau who came down to enjoy the Book Parade this morning – there were some FANTASTIC costumes! Looking around, I think Harry Potter (& friends) were finally knocked out of the top spot this year……..in favour of Moana! Thanks also to our teachers and staff who once again took the opportunity to show off their silly sides.
It would be lovely to see our working bee supported tomorrow – 9am – 12pm (or whatever time you can spare). This will be mainly weeding, planting and mulching. BYO spades, gloves, buckets and wheelbarrows. Your help would be much appreciated to give our school gardens a much needed tidy up.
Nga mihi nui,
Kathryn Ramel
Principal
Check out our new App!
ALL FROM YOUR PHONE:
Receive instant notifications re school events
Advise of absences
Sign permission slips
Simply download "SKOOL LOOP" from the App or Play Store, and select Snells Beach School.
Weekly Diary
Week 6: 19 Nov – 23 Nov
Tues 20.11      Athletics Certificates Assembly – 9:10am (all welcome)
Tues 20.11     Bring your reading buddy to school (teddy) day
Weds 21.11    Puriri 1 MOTAT Trip

Thurs 22.11   

 

Year 3 & 4 Swimming at Mahurangi College

Fri 23.11

         

Full School Assembly 2:10pm. Librarians Certificates. Class Kau 2

Fri 23.11         Pizza Lunch Day (Yr 5 Camp 2019 fundraiser)
Week 7: 26 Nov – 30 Nov
Weds 28.11   

BOT Meeting 6:30pm

Fri 30.11

Full School Assembly 2:10pm. Peer Mediators Certificates. Manawa 2
Week 8: 3 Dec – 7 Dec
Fri 7.12 Full School Assembly 2:10pm. Bell, Flag, Sports Shed, Milk Certificates. Class Kau 1
Welcome to our new students – we hope you enjoy your time at our school!
New Before & After School Care Provider (inc holiday programmes)
We are currently in negotiations with a new before and after school care provider (called Kelly Club), who also run holiday programmes. The programmes are focussed around sports, cooking, discovery time, art & craft activities, and structured homework time. Parents or whanau that meet certain criteria will be able to access a WINZ subsidy to help cover the cost of this programme. Kelly Club would also be an option for Year 7 & 8 siblings to attend before and after College. 
In order to  establish what times are needed (before school, after school and holidays), and in the hope of starting these school holidays, we would strongly encourage interested parents to complete this short survey, so we can get an idea of interest and numbers:
https://www.surveymonkey.com/r/5GPSKBQ
The Junior School get Firewise
Our Year 0 – 2 students have been learning all about keeping themselves safe, in the event of a fire. They know how to "Stop, drop & roll", and also to "stay low & get out fast". Yesterday, they were very excited to see a fire engine from our local Mahurangi East Station, and learn all about how they operate. The highlight was the small house with "real smoke" where they practiced getting out safely.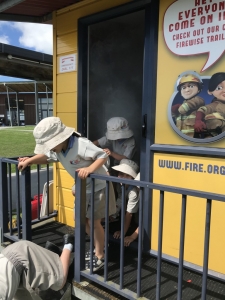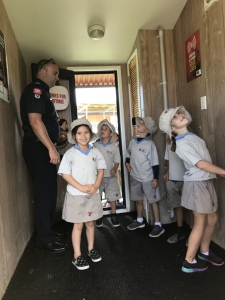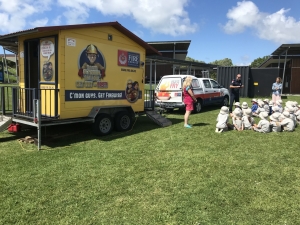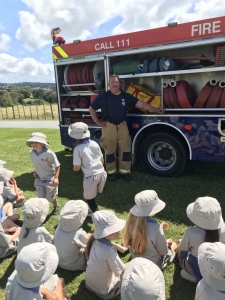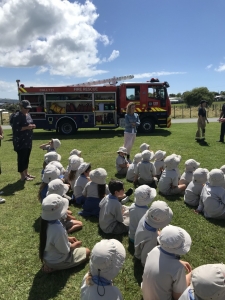 Scholastic Book Fair
We were delighted with the range of books supplied in the Scholastic Book Fair this year – literally something for everyone! Drop down before or after school until Wednesday 21st November, and have a browse. Located in the school library. Eftpos available………and the school receives cool new books for our library as a percentage of books sold. Win win!
A reminder: Working Bee – Tomorrow, Saturday 17 November 9am – 12pm
We would love to see you tomorrow,  Saturday 17 November, even for an hour or two! Instead of a Gala this year, we have decided, in conjunction with our PTA, to host a "Working Bee" here at school. There will be lots of "fun" activities for parents to get involved in: mainly weeding, planting and bark spreading. We could really use your help to get on top of our huge garden areas. There will be activities to keep children entertained, including the Book Fair, and refreshments available. Every little bit helps! The PTA have donated a family pass to the Sculptureum – everyone who helps on the day goes into the draw. Simply see Miss Ramel for a ticket, and pop it in the box in the library.
Book Parade – some fantastic outfits!
Weet-bix Tryathalon – Year 7 students
Just to let our Year 6 students know, they are welcome to still join our SBS school team next year – think about giving it a go!
Community Kapa Haka Group – for adults
Practices are on Monday from 5.00pm in the Warkworth School Junior Hall.  All ages welcome.  All levels of experience, including beginners welcome.  Please bring a plate for shared kai.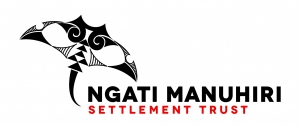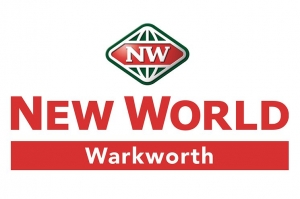 Print or Save this Post