Tēnā Koutou, Talofa Lava, Malo e Lelei, Namaste, Ni sa bula, Noaia'e mauri, Fakalofa lahi atu, Kia Orana, Ni Hao, An Nyung Ha Sai Yo, Nay Ho, Hej, Hallo, Sawat Dee, Cześć, Goeie Dag, សួស្តី, Здравствуйте, hola, 안녕하세요Greetings to our school families.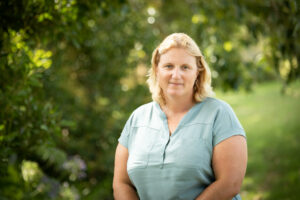 I'm really looking forward to next week – events when the whole school come together are always memorable, and Cross Country provides us with special moments every year. It's a time to marvel at the kids that seem to glide along and make running look easy, and also to celebrate the majority, who face the challenge and battle through just to finish. And there's a joy in finishing something tough, knowing that you got there, and it's over, that's hard to replicate. I'm so hoping that the weather holds – the event will go ahead unless it is actually raining on the day, as the kids simply get too cold if they are wet as well. Details below.
A gentle reminder to our Year 6 parents, that it's time to start making decisions about next steps in your child's schooling, as enrolments are now open for Year 7's. If your child will not be attending Mahurangi College, please let us know, so we can make arrangements to pass on transition information to the appropriate school.
Ngā mihi nui,
Kathryn Ramel
Principal
School Diary
Week 5: Mon 14 Aug – Fri 18 Aug
Weds 16.08

SBS Cross Country

Fri 18.08

 

SBS Cross Country (saving day)
Week 6: Mon 21 Aug – Fri 25 Aug
Fri 25.08

Full School Assembly. Man 2
Week 7: Mon 28 Aug – Fri 1 Sept
Tues 29.8 

      

Inter School Cross Country

Thurs 31.08     Epro8 Interschool Event  9.30am-12.30 (Northcote Intermediate).
Fri 01.09          Junior School Poetry Finals 9:10am (Year 0-3)
Welcome to our new students – we hope you enjoy your time at our school!
Seb M
Drop Off/Pick Up Safety
We are currently reviewing our drop off/pick up area and the small crossing outside the school office, as we are having a stream of issues where buses can't get past cars and kids can't access the crossing to get to and from parents vehicles. Quite simply, the arrangements that worked with 200 kids, don't work with almost 400. So, watch this space for some upcoming changes. In the meantime:
please, do not leave your car unattended in the bus zone at any stage
please leave the bus bay completely clear from 2:30pm
if you are pulling in after the afternoon bus, please stay in your car so you can move if required
please do not park on the crossing outside the office
please do not park in the staff carpark – the only way out is to drive straight through the stream of kids leaving the school, which is extremely dangerous.
That's a lot of dont's! But we are simply trying to keep everyone safe. Thank you for your support.
15th Annual Snells Beach Cross Country 2023
All students have been training for our annual Cross Country next week. It's a time for our competitive runners to battle it out from the front and for everyone else to set goals, support one another and feel the pride of finishing. Cross Country is a winter event – running through the mud is part of the challenge and the fun! Students will get dirty, and races will go ahead unless the weather is really bad. Parents, whanau and supporters are welcome! This year's event will be a mud bath – but that's the challenge and difference of Cross Country as opposed to road and track events, simply keeping on your feet is part of the challenge.  Here's a run down of things that you need to know for the day:
When: next Wednesday 16 August (save day Fri 18 Aug)
Wear: regular school uniform to & from school (this is so everyone has something clean and dry to wear afterwards).
Shoes: Year 5 & 6 students must run in shoes as they have a road circuit as well. For Year 0 – 4 students, shoes are optional, but be prepared for them to get very muddy! We actually recommend bare feet – shoes come off in the mud, and kids stop to find them and dig them out! If you must wear shoes, we suggest that you put some tape (such as insulation tape) around them, like rugby players commonly do, to keep the laces done up and the shoes on.
Bring: Mufti to run in (if you can, a top in their house colours – Scows: red, Schooners: green, Dories: blue, Cutters: yellow), a drink bottle, big lunch, an old towel (to wipe off after), their school fleece, and we suggest a warm jacket also.
Supporters: are welcome! Please note that the students run along the path by the retaining wall by the field, so if you are sitting on the retaining wall, please stay well back and keep an eye on pre-schoolers.
Parent Help: We would love a few parents to act as marshalls on the road circuit for the Year 5 & 6 students! Please email Mr Morley tmorley@snellsbeach.school.nz if you can help
Approximate start times: Next race will be warming up while race is on. (Please note timing is only a rough guide)
11.00 – Y.0/1 Girls x 1 lap
11.10 – Y.0/1 Boys x 1 lap
11.20- Y.2 Girls x 1 lap
11.30-Y2 Boys x 1 lap
11.40 Y.3 Girls x 2 laps
11.50. Y.3 Boys x 2 laps
Lunch 12:30pm – 1:00pm
1.10pm Y.4 girls (2 laps)
1.20pm Y.4 boys (2 laps)
1.30pm Y.5 girls (2 laps plus road circuit)
1.45pm Y.5 boys (2 laps plus road circuit)
2.00pm Y.6 girls (2 laps plus road circuit)
2.15pm Y.6 boys (2 laps plus road circuit)
If you are able to act as a marshal for the road circuit for our Seniors, we would love some help! Please email Trent Morley tmorley@snellsbeach.school.nz, or phone the office
House Points are given to the top 10 place getters. The top 5 place getters receive a certificate at Assembly, and go on to compete at the Inter School event in a few weeks time.
SBS trip to Tiritiri Matangi Island
On Wednesday this week a group of enthusiastic conservationists from years 3-6 had the privilege of travelling to Tiritiri Matangi Island. They were treated to sightings of many native bird species including the Kokako and the Hihi. It was a fantastic day of exploring and learning with interesting tour guides. The weather even played its part. They will be taking away many memories and lessons learned in Kaitiakitanga.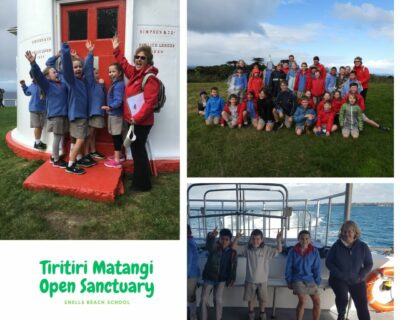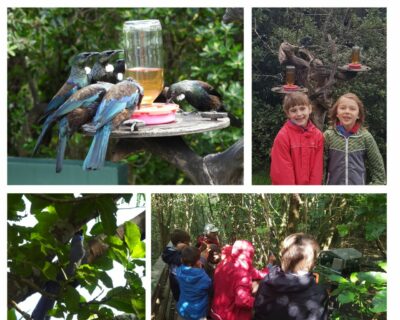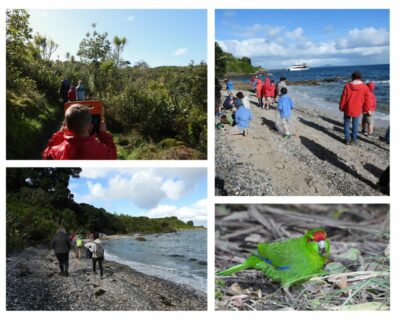 Snells Beach Community Night – SBRRA (Snells Beach Ratepayers & Residents Assoc)
We really are better together, so let's celebrate and showcase all things local to Snells Beach and the Mahurangi East Peninsula at the "SNELLS BEACH COMMUNITY NIGHT!"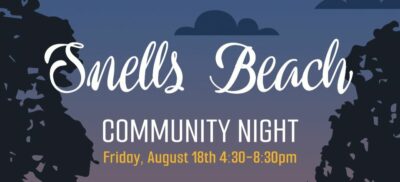 SBRRA (Snells Beach Ratepayers & Residents Assoc )and other volunteer members of the community are excited to extend a warm invitation to you and your group to join us for a fun and positive community evening.  Our aim is to bring visibility and support to all things local while enjoying food, music, games, bouncy castles, rock climbing walls, lawn games and more!  There will be something for all ages and all interests and we look forward to creating a positive and uplifting night.  We will ask attendees if they would like to voluntarily participate in a short questionnaire about what vision they might have for Snells Beach.  Any completed questionnaires will receive entry into a prize basket from local businesses.
We sincerely value the involvement of your group in making this event a resounding success. Your presence and participation will contribute significantly to the collective spirit of community and pride in Snells Beach that we aim to foster. Whether it be through hosting a booth, showcasing your talents, sharing informational material, or offering interactive experiences, we encourage you to participate in a way that best aligns with your group's mission and objectives.  If you are unable to participate in this way, we invite you to provide a poster or signage (A3-A4) with information about your group for us to display.
Details
Date: Friday, August 18th, 2023
Time: 4:30 – 8:30pm
Venue: The Warehouse Building – Snells Beach
Together, we can make Community Night an unforgettable experience that showcases the heart and soul of our town.  We look forward to seeing you there!
To confirm your participation via email to:  SnellsBeachCommunityNight@gmail.com or text 027 636 1536. We kindly request that you confirm by Friday, August 11th to facilitate event planning and logistics.
WHAT TO EXPECT:
Live music from a local favourite LOU LOU
DJ Kurt (when LOULOU is on break)
Bouncy Castles
Face Paint
Lawn games
Hang out spaces
Group, Clubs etc area – tables and booths
Business alley – signage and information to show local businesses
FOOD – The Food Market – Sushi, Ice Cream, Coffee, Treats, and Hot Pizza (for purchase)
Snells Beach Flower Show
The Snells Beach Garden Circle are staging the annual Flower Show on Saturday 2nd September this year children are welcome to participate. Viewing to the public is from 1.00pm 3.30pm.
Children's flower arranging competition for 2nd September Show:
5 years and under An arrangement in a saucer.
6- 8 years olds An arrangement in a saucer
9-12 years olds A design in an ice cream container
Important
Write the child's name underneath the plate . Bring the entries to the Mahurangi Community Centre on Friday 1st September between 3 – 4pm, otherwise at 9.00 – 10.00am show day, 2nd September.
Warkworth Scout Group
If going on awesome adventures, playing heaps of games, learning life skills, doing arts and crafts, making lots of friends sounds like your child, Warkworth Scout Group is offering free taster sessions for Kea and Cubs.
When:           Friday -during term time
Where:          Warkworth Scout Den Hall, Shoesmith Road, Warkworth
Times:            Keas (5-8 Years)from 4:45 pm to 5:45pm,  Cubs from ( 8-11 Years) 6:00 pm to 7:30 pm
Contact         Group Leader – Ian Grant 021 755 667
https://scouts.nz/groups/warkworth-scout-group/
FrostFit Boot Camp
Every Saturday Morning, 8:30am in the SBS hall (undercover). All fitness levels.  $10 per class. Frost Fitness will be making a donation to SBS towards sports equipment and Education Outside the Classroom. Come along!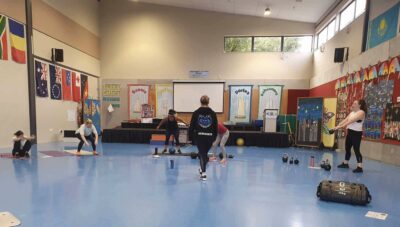 Local Occupational Therapy for Children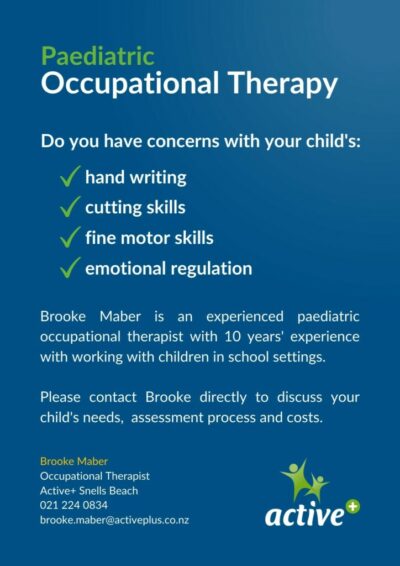 Speech Language Therapy Sessions Here At School
One of our parents, Kendall Stewart is a Speech Language Therapist.  She is running private therapy sessions every Wednesday at school. If you have any concerns regarding your child's pronunciation, language use, comprehension or stuttering then give her a call, text or email. Together you can discuss whether Speech Therapy could help. 0275888879
Keeping in touch
In current times more that ever, keeping in touch is important. We need to be able to contact whanau quickly and efficiently. If you have changed address or contact details, please let us know asap, either via email admin@snellsbeach.school.nz, or by calling the school office 09 425 6058. 
Following our school Facebook page or Instagram
"Snells Beach School", which operate as a digital newsletters. This is a great way to get quick updates and reminders
Downloading our School App
Simply download the "Skool Loop" app from either App Store or Play Store & select "Snells Beach School" from the drop down box to receive instant notifications & reminders.
Subscribing to our school email database
Please email us admin@snellsbeach.school.nz to be added to the list. If you do not receive this newsletter via email on Friday afternoon, you are NOT in our database. All new families should have been added – please check. You can unsubscribe at any time.

Print or Save this Post