Tēnā Koutou, Talofa Lava, Malo e Lelei, Namaste, Ni sa bula, Noaia'e mauri, Fakalofa lahi atu, Kia Orana, Ni Hao, An Nyung Ha Sai Yo, Nay Ho, Hej, Hallo, Sawat Dee. Greetings to our school families.
School Holidays commence Saturday 13 April – Sunday 28 April
Welcome to our new students – we hope you enjoy your time at our school
Kayley Veenstra
Ryan Veenstra
Gus Halliday
Sebastian Fox
Dallas Geldard
Travelwise Week – next week
Every year we have fun during Travelwise week, but this year is extra special, and we have a few additional events, as part of our on-going 10 year celebrations. As a school we celebrate being Travelwise because it keeps us healthy and fit, looks after the environment, and keep us safe around school with less traffic congestion. Win, win, win! Please make sure you check the timetable below, (or the paper copy coming home in bags today) so you know what is happening daily. Key Points are:
Big Walk to School: 8am Monday morning. Students (and parents etc) meet either at Highfield Reserve, or the Skate Park (behind the Tennis Club), and walk to school together. There are spot prizes and house cards for all walkers. 
Daily Walking Numbers & House Cards: Just like our "Walking Wednesdays", but EVERY day next week. Any child who comes to school a travelwise way gets a number for afternoon spot prize draws & a house card. See the Travelwise Monitors outside the hall when you arrive.
Scooter & Helmet Raffle Tickets: on sale daily outside the library. Drawn at Friday's Assembly.
Colouring Competition: Daily in the library at lunchtime, run by our Head Librarians.
Staff "Guess the Baby Photo" Competition: Classes will go through this with their teachers
Easter Egg Hunt: We used to do this when our school was little! House Captains will run a hunt for hidden eggs with their houses. Eggs will then be evenly shared. PLEASE LET US KNOW IF YOUR CHILD CANNOT HAVE SMALL CHOCOLATE EGGS, SO WE CAN PROVIDE AN ALTERNATIVE
Beach Clean & Celebration: more information will come home about this on Monday
For a detailed timetable see here:
Kelly Club Holiday Programme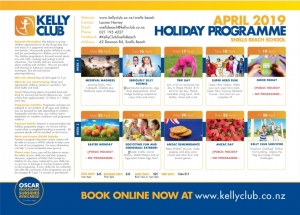 Kelly Club have an exciting programme planned for these holidays, right here at school. They bake at least once every day!! Arts and crafts, sports, games and science experiments!! Your kiddies won't be bored with 7 activites each day!! For further info contact: Lauren Harvey 021 195 4227. Book in now at www.kellyclub.co.nz/snells-beach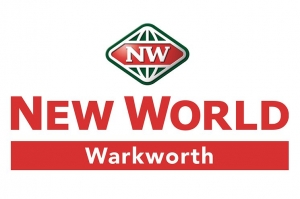 Print or Save this Post