Tēnā Koutou, Talofa Lava, Malo e Lelei, Namaste, Ni sa bula, Noaia'e mauri, Fakalofa lahi atu, Kia Orana, Ni Hao, An Nyung Ha Sai Yo, Nay Ho, Hej, Hallo, Sawat Dee, Cześć, Goeie Dag, សួស្តី, Здравствуйте. Greetings to our school families.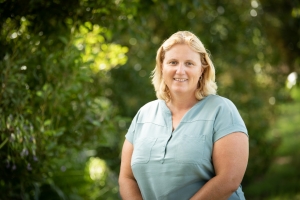 It was nice to have a small Assembly this morning, albeit under the ruling of Covid restrictions – classes sat in their teams, outside, with appropriate spacing, and no "open invite" to parents. It seems so long since we have all been together, and we certainly look forward to a return to life as we knew it next term, and welcoming parents back too.
We met to farewell the Winther family, as they head off to explore the rest of NZ, before heading back to a wintery Denmark. We wish them the safest of travels, and cross our fingers that when travel restrictions open, they may be able to return to visit. Palle, we thank you for the huge contribution you have made to keeping our students active and fit. I believe you have attended all trips, swimming, and of course been a proud Biking School Bus "driver. We feel lucky to have had the contribution you have made to our school.
Special mention should also go to some of our Kapa Haka students who performed a spontaneous haka in farewell. Thank you boys for this special touch.
Have a safe and relaxing holiday everyone. See you in Term 4!
Nga mihi nui,
Kathryn Ramel
Principal
Key Dates
School Holidays Saturday 26 September – Sunday 11 October
School Office Open Weds 7 Oct – Fri 9 Oct, Week 2 of the Holidays 9am – 3pm
Enrichment Group Researchers and Conservationists
Mrs Young runs enrichment groups for students with exceptional talents and strengths in Years 4 – 6. One of these groups are the Researchers and Conservationists. A few weeks ago the group spent the day working with the rangers at Scandrett Regional Park. This week the group worked with Larissa the Ranger from Scandretts, Mike, an ARC Ranger, and Russell Cullen from Pest Free Warkworth here at school. They spent a day finding out about predators, different trap designs and how they work, and the animals they were trying to protect. 
School Photos with Little Doves Photography
Just a wee heads up – Little Doves Photography will be in the school taking both individual and sibling photos, as well as class photos, during Week 2, next term. Please keep a look out for order forms coming home in Week 1 to arrange your booking.
School Calendar on Hold
Another casualty of 2020 has been our School Calendar featuring beautiful shots of the Mahurangi East. We have decided to put this on hold, as delays in production due to Lockdowns have meant that we would miss most significant postage dates, and many local shops are not currently able to sell on our behalf. Thanks to everyone who shared some wonderful photos – with your permission, we would like to use these next year instead.
Farewell from your Danish friends (published at the request of the Winther family)
"This is very hard to say out loud, but the reality is that the Danish Winther Family will soon leave the lovely Snells Beach and all our friends in this wonderful community. We have loved our time here in New Zealand and we can't believe it's been two years already! We are not ready to head back to Denmark, and honestly we are not done with this amazing part of the world. You have all grown on us!
Snells Beach has taken us by storm, and the awesome Snells Beach School has a huge part of making us feel home.
Esther and August have made lifetime friends, and we will do our outmost to keep in contact. Sometimes we take things for granted, but honestly the entire school from Kathryn, the administration, the teachers and ESOL go way beyond of what you would expect from a Primary school. The love and caring for all the children and the way the teachers are engaged in the learning is unique. Esther and August have both loved their school and it will be a huge change for them to go back to Denmark – especially going into winter dropping the cool school uniform and putting big boots on the bare feet!
For Esther it will be hard no longer to hear Mr. Chapman's amazing stories, experience his creativity and unique
way of interact with the children. But also running to Mrs. Henchie in Mānawa 2, to get the daily hug and happy smiles will sincerely be missed. August's beloved teacher Mrs. Holland will be very hard to replace. The wonderful vibes in the class inspires the children and make them feel safe and home.
When Esther and August arrived two years ago, none of them spoke English and found it very hard to run around
without shoes. Today, we have two happy children with the most amazing Kiwi accent who refuses to wear shoes :-).
They even have the nerves to correct our Daenglish accents, and often (don't tell anybody) they have to explain some of the new words they have learned in school. What a great gift you all have given our kids.

We would like to thank you all for inviting us into your world, and a thanks to all the teachers who have been a great
part of Esther and August's life the past two years. You all have big part of shaping two great human beings and we are forever thankful for living the Snells Beach values out in the open. This means a lot more than any of us can understand.

A special thanks to Mrs. Jollife who made both Esther and August's first school period the best we could have dreamt of, to Mrs. Wallis who managed to transform August's playful mind to also absorb real school work and helped him feel safe, to Mrs. Henchie for being a massive support for Esther and helping her flourish, to Mr. Chapman who is a genuine good chap who sincerely care for his children and still amazes us with how he connects with his class. Mrs. Lovegrove deserves a massive applause from us. She has unlocked the creative minds in our children, and especially Esther has developed skills, we did not know she possessed. Last but not least we have been blown away of the ESOL program where Mrs Spittal helped Esther and August during their difficult start at the school. Later on Mrs. Young has carried on the great work and added a deed level to their understanding. Also thank you to Mrs Thomas who has been very helpful to get the Biking School Bus going. Remember, cool kids walk, scooter or bike to school!

We could not have wished for a better school for our children. You have something very special going on at Snells Beach School, and we are extremely proud to have experienced the way you manage to form the children's personalities through your values and inspiring learning. Thank you. You will forever be in our hearts.
Your Danish friends Esther, August, Christina and Palle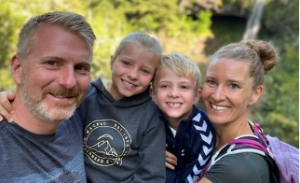 Support the Snells Beach Kindy Comedy Night
Featuring the Improv Bandits. $25 a ticket. 7:30pm Saturday 24th October at the Salty Dog. For tickets text Roxanne 021 0787 991 or email snellsbeach.kindyparents@yahoo.com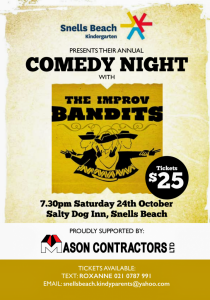 Kelly Club School Holiday Programme
Kelly Club are now taking bookings for their fun-filled school holiday programme, including a Safari Day, crafts, games and much more. Care is available from 7am – 6pm, or full week, school day, or half day bookings for students from all schools, aged 5 – 13yrs.  Parents/caregivers that meet criteria will be able to access a WINZ subsidy to help cover costs if required. For more information:
Website: www.kellysports.co.nz/Snells-Beach
Contact: Lauren Harvey
Email: snellsbeach@kellysports.co.nz
Phone: 0211 954 227
Facebook: @KellyClubSnellsBeach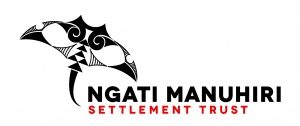 Print or Save this Post